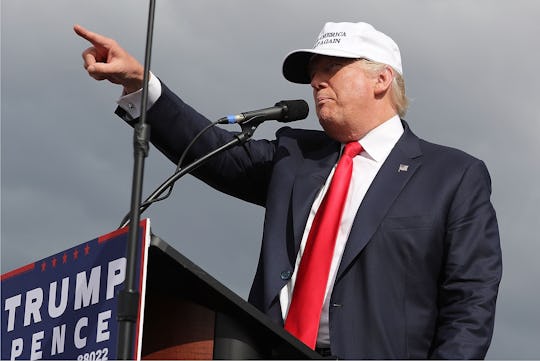 Joe Raedle/Getty Images News/Getty Images
Who Are The Two Women Accusing Donald Trump Of Touching Them? Their Claims Are Troubling
As if hearing Donald Trump talk about allegedly grabbing women's genitals wasn't enough, now there are two women accusing Trump of allegedly touching them without their consent, according to The New York Times. Jessica Leeds, 74, and Rachel Crooks, 36, came forward this week, alleging that the Republican nominee groped them. The allegations come in the wake of leaked audio from 2005, in which Trump is heard joking with then Access Hollywood host Billy Bush about allegedly using his star power to pick up women by grabbing their genitals or kissing them without their consent.
During a town hall debate on Sunday night, Trump was asked by moderator Anderson Cooper whether he had ever acted on the actions he was joking about in the leaked tape. "No, I have not," Trump said at the time.
But two women have now come forward alleging that they have had different experiences with the real estate mogul than he has previously let on. According to The New York Times, Leeds alleges that, "decades ago," she was sitting on a flight next to Trump, whom she had never met before, when he allegedly lifted up the armrest after takeoff and put his hands up her skirt and touched her breasts, without her consent. "He was like an octopus. His hands were everywhere," she alleges. Romper reached out to the Trump campaign for comment on the allegations and is awaiting a response.
Crooks has a similar story.
At the time of the alleged incident, Crooks was a 22-year-old receptionist at the Bayrock Group, a real estate investment and development company in Trump Tower. Crooks claimed that she ran into Trump outside an elevator one day in 2005, the same year Trump was caught on a hot mic talking with Bush about allegedly groping women.
Crooks alleged that Trump shook her hand and then "wouldn't let go," and began kissing her cheeks before moving toward her mouth. She told The New York Times, "It was so inappropriate. I was so upset that he thought I was so insignificant that he could do that."
Crooks reportedly told her sister, Brianne Webb, about the encounter. In a comment to The Times, Webb claimed,
She was very worked up about it. Being from a town of 1,600 people, being naïve, I was like "Are you sure he didn't just miss trying to kiss you on the cheek?"
In a phone call with The Times on Tuesday, Trump denied each of the allegations, blasting the reporter angrily for what he claimed were lies concocted to make him look bad. "None of this ever took place," he reportedly stated, before diverting the conversation back to the initial Access Hollywood tape. "You are a disgusting human being. ... I don't do [these things]. I don't do it. It was locker room talk."
According to the outlet, Trump said that The Times "was making up the allegations to hurt him and that he would sue the news organization if it reported them."
The women's allegations are more bad news for the Trump campaign, especially leading up to the next debate where one of the topics is slated to be "fitness to be president." Trump, who brought four women who have accused former president Bill Clinton of sexual assault to last Sunday's debate, will likely have to answer to these new allegations. It's also possible that the Clinton campaign will refer to Leeds and Crook's allegations during next week's debate, or in the days leading up to the event, although Clinton has claimed several times now that her campaign will "go high" if Trump stoops low.