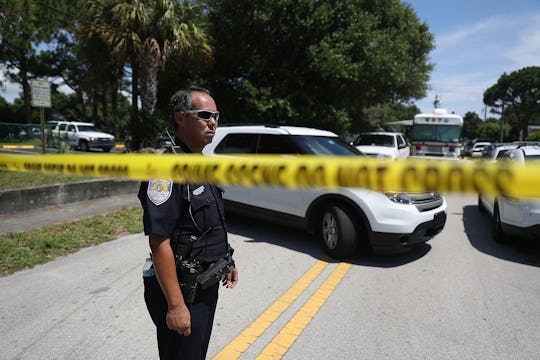 Joe Raedle/Getty Images News/Getty Images
Who Are The Victims Of The Azusa, California Polling Place Shooting?
On Tuesday, just hours before presidential polls were scheduled to begin closing across the country, four people were injured in an officer-involved shooting at a polling location, leaving three injured and one person dead. Who are the victims of the Azusa, California polling place shooting? So far, the victims' names have not yet been released, but according to CBS Los Angeles, officials on the scene did confirm that all four shooting victims were taken to area hospitals. Los Angeles County Fire Inspector Gustavo Medina confirmed a single death and three injured to CNN anchor David Daniel on Twitter.
Update: As of 4:15 p.m. local time, the Asuza Police Department has confirmed the conditions of the shooting victims on Twitter: One person is dead and two victims were transported to the hospital in critical condition. The condition of the fourth victim was described only as "down."
The shooting took place near the Memorial Park Recreation Center and Dalton Elementary School polling stations, as well as the Slauson Middle School. The middle school has been placed on lockdown while voters have been told by officials on the scene to seek alternate polling locations as the investigation continues. The Asuza Unified School District has confirmed that no one was hurt on campus, according to KABC-TV. Witnesses spoke to The Los Angeles Times, who reported that a heavily-armed male begin shooting at least 10 rounds into a crowd of people just past 2 p.m. local time.
The shooter is still at large and Officer Jerry Willison of the Azusa Police Department called it "a very volatile and critical situation." When more than 20 officers responded to the shooting in the dense residential neighborhood near W. 5th St. and N. Orange Ave., they were "met with gunfire at the scene," said Willison. Azusa Police confirmed via Twitter that all officers who first responded to the scene and subjected to gunfire are "accounted for, safe and rescued."
According to several reports on Twitter, voters and poll workers were in the Memorial Park polling location at the time of the shooting, and have been placed in lockdown. The Azusa Police Department has advised residents in the surrounding area to shelter in place.
Asuza is a town of just under 49,000 people in Los Angeles County, approximately 26 miles west from Los Angeles proper. According to statistics website City-Data.com, Azusa is largely Hispanic, representing more than 65 percent of residents in the city. In the 2012 presidential election, the Los Angeles County Clerk's Office reported 67.5 percent of registered voters in Asuza turned out to vote, favoring then-incumbent president and Democrat Barack Obama.