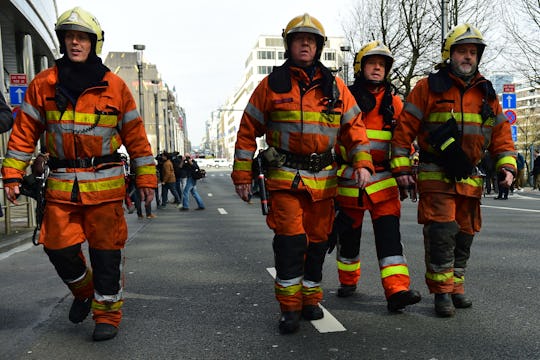 EMMANUEL DUNAND/AFP/Getty Images
Who Are The Victims Of The Brussels Attack? Many Were Killed In 3 Explosions
So far, more than 20 people were killed in three separate explosion in Belgium early Tuesday morning, according to the BBC. Who the victims are in the Belgium attacks isn't quite yet clear — most of them haven't been named or otherwise identified, but it seems that they were mostly civilians. Two bombings took place at Zaventem airport and the third was at Maelbeek metro station, according to the BBC. The Belgian Federal Prosecutor said Tuesday that all three attacks were acts of terrorism and at least one of the explosions was carried out by a suicide bomber, according to ABC News.
Update: Three American Mormon missionaries were injured in Brussels, during one of the blasts at the Brussels Airport, according to The Church of Jesus Christ of Latter-day Saints. Richard Norby, 66, Joseph Empey, 20, and Mason Wells, 19, all from Utah, were said to have been hurt during Tuesday's attack. The First Presidency of the Church issued the following statement on Tuesday morning:
With much of the world, we awoke this morning to the heartbreaking news of the bombings in Belgium ... Our prayers are with the families of the deceased and injured, including three of our missionaries who were injured and hospitalized. We also pray for the people of Belgium and France as they continue to deal with the uncertainty and devastation caused by the recent terrorist attacks.
CNN reported the death toll at 26 at about 8 a.m., but the number of injured was much higher than that. The Belga news agency reported that shots were fired and shouts in Arabic were heard before the explosions, though its unclear where the agency received the information, according to the BBC. All flights out of the Zavantem airport, also referred to as the Brussels airport, were canceled until 6 a.m. Wednesday morning, according to USA Today, and Belgium raised its terror threat to the highest level, according to the BBC.
Though a terrorist group hasn't officially claimed responsibility for the Brussels attacks, many believe that they were likely orchestrated by ISIS. Just last week Belgian authorities finally arrested Salah Abdeslam, who is thought to be one of the orchestrators of the November Paris terror attacks carried out by ISIS, according to USA Today. Belgium was reportedly expecting some kind of attack in retaliation for his capture, though whether ISIS actually made threats or what steps authorities were taking to prepare for or anticipate those threats.
This story is developing...