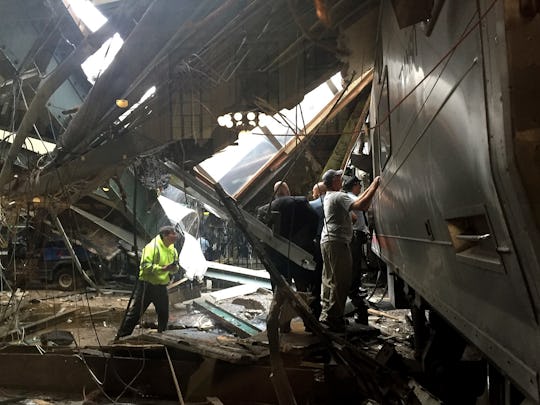 Pancho Bernasconi/Getty Images News/Getty Images
Who Are The Victims Of The Hoboken Crash? At Least 100 Injuries Have Been Reported
Early Thursday morning a train crashed into the New Jersey Transit Hoboken station. NBC New York has reported "mass casualties" as the result of a train "blasting through a wall after going off the tracks," according to one Twitter user and eyewitness. Pictures of the severe damage were posted to social media around 8:45 a.m. Thursday morning, a notoriously busy commute time, leaving many people wondering, "Who are the victims of the Hoboken crash?" One can only imagine the number of people present when the train crashed through the station.
So far, a reported 100 people have been injured and at least three deaths have been confirmed, although the scene is still being assessed and people are still being accounted for. Many of the injured are in critical condition, and are being rushed to medical facilities nearby for treatment. The names of the reported deceased have yet to be released, until the next of kin are notified.
A senior transportation official, who did not want to be identified, told The New York Times, "There are fatalities. There are a significant number of injuries. The train was going very fast. There are structural concerns about the facility." An eyewitness that was on the train, Jason Danahy, gave his account of the incident, saying "I saw bloody noses, I saw people crying."
Multiple eyewitnesses told CBS News that "people were helping people," and "people really came together," describing the scene directly after the crash and how able-bodied passengers were helping the injured off the train.
ABC News tweeted New Jersey Transit's statement regarding the crash, stating that the train "struck the Hoboken Terminal building on track 5." No official cause of the train crash has been given at this time, although rail service in and out of Hoboken has been suspended indefinitely due to the incident.
Eyewitness and New Jersey Transit engineer also talked to CBS News and described what he had seen regarding the rescue efforts being made directly after the devastating crash. "It was like we're a family, man. When you say Americans man, I'm not lying. Everybody — creed, color, everybody — tried to help. People were crying. It was sad."
As news continued to spread about the crash, the injuries and the loss of life, people from across the country took to Twitter to offer their thoughts, prayers and condolences to all those involved. Here are just a few of the well wishes being made to those injured, those deceased and their families.
Of course, the entire country mirrors what so many Twitter users are saying: our thoughts and prayers are with all those suffering during this time.