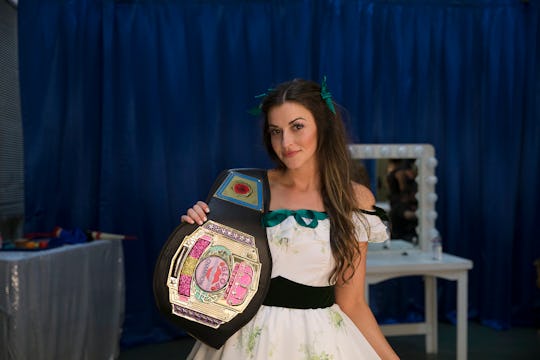 ABC
'Bachelor' Contestant Tia Is Extremely Close To Her Parents & She Has The Ink To Prove It
I can hardly believe it, but this season of The Bachelor is speeding by and it's time for hometown dates. Arkansas contestant Tia Booth is one of the four contestants left standing. But Arie won't just be visiting her hometown — he'll be introduced to her family as well. So who are Tia's parents on The Bachelor? Bachelor Nation is already pretty familiar with her best friend, Raven Gates, but unsurprisingly, her actual family hasn't yet been on The Bachelor.
According to her ABC biography, Tia is a 26-year-old physical therapist from a town called Weiner, Arkansas. Viewers may remember her infamous "wiener" joke in the premiere episode. During her introduction to Arie, Tia gave him a plastic wiener and said she hoped he didn't already have a "litter wiener." Arie didn't get it, but it showed that Tia definitely has a personality. Perhaps she got tips from her BFF, Raven. Raven was on Nick Viall's season of The Bachelor last year and ended up the runner-up. Thankfully, Raven got her happy ending on Bachelor in Paradise. There, Raven met Adam Gottschalk — and not only did they get engaged, they're still engaged to this day. For Bachelor in Paradise, that's practically a success story given their track record. Before the season started, Raven showed her support for Tia on her Instagram:
"My only advice: Just always remember you're not as bad as what your worst critic says you are and you're not as great as what your biggest fan says you are," Raven's Instagram caption read. "Find the balance, enjoy the ride. I'm always in your corner!" Raven is definitely qualified to give advice given her history with the franchise. So far, it seems that if she told Tia any tips, it's working. I don't know how Tia ends up faring for the end of the season, but she did at least make it to hometown dates; Arkansas women seem to have good luck on the show.
I wouldn't be surprised if Raven makes an appearance during Tia's hometown. But Bachelor Nation will also meet Tia's family. From the looks of the trailer, it seems that her parents (like most on The Bachelor and how most would be in real life, let's be real) are pretty skeptical about the whole process. There's not much information about her parents online, but looking at Tia's Instagram, she's pretty close with her mom. Her brother also appears in her photos, so he may appear on the show as well. Her dad seems to be absent from her social media posts, so either he's camera shy or there's another explanation, which The Bachelor will undoubtedly touch on.
Her closeness to her family is actually inked on Tia herself: one of Tia's tattoos says "Mama & Papa" on her left foot. It's clear that her parents mean a lot to her if that's on her foot for all eternity, and I'm sure her parents feel the same way about her. This is why it'll get exciting once Arie enters the picture during hometown dates. Even Bachelor Nation can objectively say the show is an odd way to find a spouse, so her parents will probably have a lot of questions for him.
On the last episode, Arie said he's falling in love with another contestant, Lauren B., which is an unprecedented move by a lead. Does this mean that Tia and the other women should just pack it all in? I don't think so; apparently Arie fell in love with more than one woman this season. There are three others he could say it to, including Tia. Perhaps he'll drop the L word during hometowns — or in front of Tia's parents. Bachelor Nation will find out soon enough.
Check out Romper's new video series, Romper's Doula Diaries:
Watch full episodes of Romper's Doula Diaries on Facebook Watch.