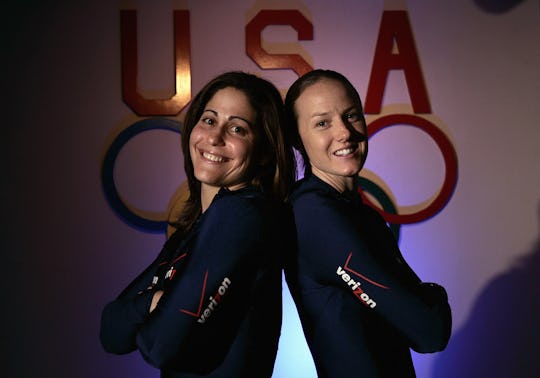 Donald Miralle/Getty Images Sport/Getty Images
Meet The Olympians Taking Over 'The Bachelorette' Tonight
On this week's episode of The Bachelorette, Becca and her suitors will be hitting the snow. The group is heading to Park City, Utah where Val Olympic bobsledFleming and Shauna Rohbock will join Becca and her a special date for a day of fun. But who are Val Fleming and Shauna Rohbock? These two ladies are incredible Olympians.
Fleming and Rohbock competed in the 2006 Winter Olympics in the two-woman bobsled event and won silver. Together, the pair also competed in the Bobsleigh World Cup in 2006-2007, coming in second place. They also won bronze medals at the World Championships in 2005 and 2007. In 2010, Rohbock was named to the US Olympic team for the 2010 Winter Olympics and came in sixth in the two-woman event. Unfortunately, Fleming pulled her right hamstring, which kept her off the U.S. roster that year. Recently, Rohbock coached the Brazilian men's bobsled team at the 2018 Winter Olympics while also being a part of the coaching team for the U.S.
Outside of her time in the Olympics, Rohbock was a soldier in the U.S. Army National Guard and a former professional soccer player. Additionally, Rohbock is a Mormon and attended Brigham Young University, a popular Mormon university. She is the middle child of seven siblings: five sisters and one brother. Following her time in the Olympics, Fleming has gone on to serve on the U.S. Bobsled & Skeleton Federation Board of Directors as an athlete representative.
For this week's episode, Becca and her date of the day will join Fleming and Rohbock for a quick trip down the track. Hopefully, this won't end up in another one of Becca's getting hurt. Last week, Clay made a surprising exit when he decided to leave after injuring his wrist during a group-date football game. Clay needed to get surgery, and rather than continuing on the show and risking permanent injury, Clay decided to go home and take proper care of himself.
Additionally, David had to be rushed to the hospital because he fell out of his bunk bed and severely hurt his face. He was taken out of the house in a stretcher, so it seemed quite serious, and in the preview for this week's episode David's face was blurred out so fans will just have to wait and see how bad the damage actually is.
Along with the physical injuries Becca's suitors are suffering, this hasn't been a great season in terms of the guys. First, there was controversy around Garrett who allegedly liked several Instagram posts that made offensive jokes about boys who wear makeup, Caitlyn Jenner's transition, and the parkland shooting survivors, as well as immigration. Garrett has since apologized and Becca urged viewers to try to keep an open mind while watching the show, but many fans still aren't pleased and were surprised the show didn't do more of a background check into Garrett.
Speaking of background checks, an even bigger plunder on the producers part was the recent reveal that another one of Becca's suitors, Lincoln, has an assault and battery conviction. The producers claim they had no idea about the charges, saying in a statement, "No one on The Bachelorette production had any knowledge about the incident or charges when Lincoln Adim was cast, and he himself denied ever having engaged in or having been charged with any sexual misconduct."
Regardless, the reveal that Lincoln was convicted of indecent assault and battery in May resulting from a 2016 incident in Boston, has Bachelorette fans feeling betrayed and angered on behalf of Becca, who's already had a tumultuous season. While the recent revelation about Lincoln won't come up on the next episode since they're prerecorded, it'll still be interesting to see how the rest of the season plays out.
Becca is engaged now, so it looks like no matter what happens she'll still get her happily ever after. Finally!