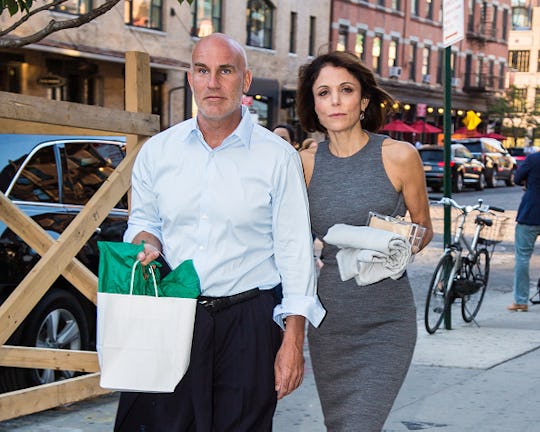 Alessio Botticelli/Getty
Who Bethenny Frankel Dating? The 'Real Housewives' Star Has Found A Perfect Match
This season on The Real Housewives of New York City, Bethenny has made it clear that she is never getting married again. After her short-lived marriage, and as she has often joked, the world's longest divorce, she has been understandably coy about the current state of her love life, and hesitant to get back into the dating pool at all. But in Wednesday's episode, she opened up to Carole Radziwill about the new man in her life, who she seems to be very into. So who is Bethenny Frankel dating? His name is Dennis Shields, and she says they're a perfect match.
At Dorinda's disastrous dinner for the women at her home in the Berkshires, Bethenny had some pretty sharp words for Luann de Lesseps, calling the Countess a "slut," among other things, for her alleged dalliances with married men. Luann shot back that Bethenny herself is dating a married man. Bethenny clarified, he's separated, just as she is. In an article with People, Bethenny joked that this is just one of many things that make the couple perfect for one another. Bethenny has tried to keep her dating life as private as possible, but now that they've been spotted out together, and their relationship is starting to make headlines, she's opening up a little bit at a time.
Dennis is a prominent New York City banker is the CEO of LawCash. Though they most likely run in the same circles, Bethenny has actually known Dennis for 27 years. She even went to high school with his ex-wife 30 years ago. Unfortunately, according to this article from E!, Dennis did not film any episodes of The Real Housewives of New York, so we won't be seeing any fascinating double dates with, say, Carole and Adam.
While Bethenny hasn't shared much about her relationship with the other women on the show, she did go on vacation with her new bestie, Carole, and Carole's boyfriend Adam Kenworthy. In Wednesday's episode, Carole gushed about Bethenny's "guy," praising his great conversation and congratulating Bethenny that she would never be bored. But Bethenny is hesitant. Though she is clearly very interested in this guy, she's still a little leery of jumping back into a relationship after her bad experience.
But the two are still together and from the looks of things they're doing alright. Here's hoping we'll see Dennis in the next season!