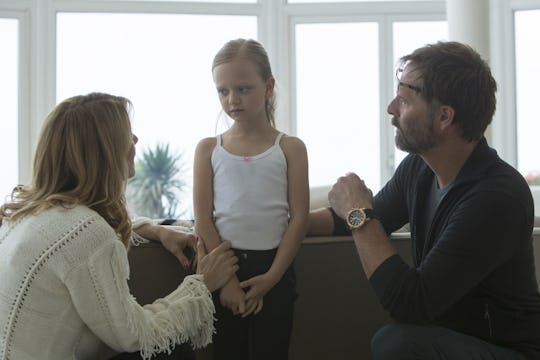 Hilary Bronwyn Gayle/HBO
Amabella's Bully Is Still At Large On 'Big Little Lies'
On Big Little Lies, Renata — played to perfection by Laura Dern — seems like an overbearing mother at times. Between her inviting everyone but Ziggy to Amabella's birthday party to trying to shut down a community theater production of Avenue Q, she's not exactly anyone's favorite. What many can identify with, though, is her fierce love for Amabella and wanting to take her bully down. On the latest episode, fans saw that the bullying hasn't stopped, but only gotten worse. Who bit Amabella on Big Little Lies? Renata thinks she knows the answer, but I have a feeling she's wrong.
Renata's had it out for Jane's son, Ziggy, since the first day of school. After the day was over, Amabella revealed that someone had choked her. When Renata asked who did it, she pointed at Ziggy. Ever since, Renata's been alienating Jane and Ziggy to try to get him to admit he did this. Ziggy's been adamant in his innocence, and Jane wants to believe him. Because he was conceived when Jane was assaulted years ago, though, there's a part of her afraid Ziggy inherited his father's violence. In a subsequent episode, Ziggy even wanted to kiss Amabella to "make up" for their tension — and it was not consensual.
While viewers haven't heard much about Amabella in a few episodes, unfortunately, it's clear that the bullying has only continued. While Amabella was getting dressed for a playdate, Renata noticed a bite mark on her shoulder. She believes it's still — and always has been — Ziggy that's doing this to Amabella. Jane was called into the principal's office and, while he and the first grade teacher say they don't believe Ziggy did it, they insist on talking to Jane about it. The child psychologist told her that she doesn't believe Ziggy is the culprit either... but could they all be wrong? (Warning: spoilers from the novel ahead!)
Given Ziggy's behavior and the psychologist's analysis, it would be surprising to find out he is really the bully. The psychologist even believed he might be getting bullied himself. So, who is actually terrorizing these first graders? If you read the novel Big Little Lies, you know it's one of Celeste's twins, Max. While it's likely the series may have the same reveal, it's uncertain as of now. It would make sense as he sees how his father, Perry, treats Celeste. Either way, though, I just hope whomever the bully is gets revealed soon, so poor Amabella can have some peace.