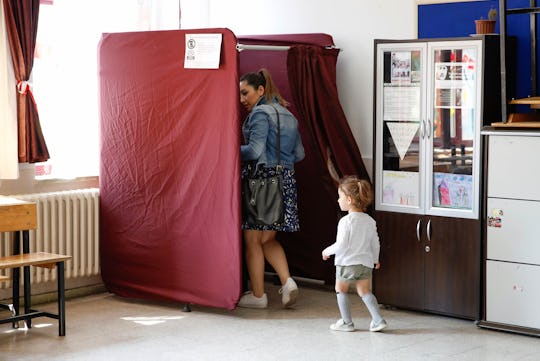 Mustafa Kirazli/Getty Images News/Getty Images
Here's How To Vote In The Midterm Elections
Republicans currently have firm control over both the Senate and the House of Representatives, but that could be changing shortly. After the recent primaries, you might be unclear as to who can vote in the midterm elections, but unlike those, which were party-specific, the midterms are open to all voters, as long as you make sure that you have your affairs in order before your state's deadline. While a handful of states will allow voter registration right at the polling place on Election Day, many require voters to register — update their registration in the case of a name or address change — well in advance.
Each state has its own complex rules. Some states allow online registration, some allow mail-in, and some require voters to register in person. Most deadlines are 21 to 30 days before the election, but some have pretty strange timetables, like the fourth Saturday or third Friday before Election Day. In Georgia, registration must take place five Mondays in advance. This year's election will be on Nov. 6, meaning Oct. 1 is the last day to mail in your registration in that state. North Dakota doesn't even have voter registration. Vote.org has a list of registration requirements for every state; click through to find yours and make sure you're ready in time.
In order to register to vote, you must be a U.S. citizen who will be 18 years old on or before Election Day (some states allow you to register to vote before you turn 18 if you will be 18 by Election Day). Depending on the state, people with felony convictions or those deemed mentally incapacitated may be unable to vote. Check your state's rules, and maybe considering moving if that's the case. You'll also want to know what's needed when you show up to vote; while some states just let you show up and tell someone your name and address, 34 states have laws requiring voters to show some form of identification in order to cast their ballot, which might be anything from a utility bill to a government-issued ID, once again depending on the state. Check here to see if your state requires ID to vote.
So what's at stake? No, we're not getting a new president in November (well, theoretically we could, but we won't be voting for one). But all 435 seats in the U.S. House of Representatives are up for grabs, as well as over a third of Senate seats. Three Senators are retiring in 2018, and two from Minnesota and Mississippi resigned earlier in the year, and were replaced by temporary appointments from those states' governors. Voters will choose the long-term replacements by special election on Nov. 6. Additionally, 30 more Senators are up for re-election this year. Check if yours is one of them.
While Congress is the big deal this year, many mayors are also up for re-election, and 39 states and territories will also be voting for a potential new governor. About half of these states have governors who are running for re-election, while the other half either don't plan to seek another term, or are barred from running because of local term limits. Find out if your governor is running.
While many Americans probably couldn't even name their representatives in Congress, collectively, they have nearly as much power as the president himself. They're the ones who write and pass the bills he signs into law, they're the one who actually talk to constituents, and they're the ones who can push back against him, or even impeach him, when he gets out of control. So get out there and vote for a good one; our future depends on it.