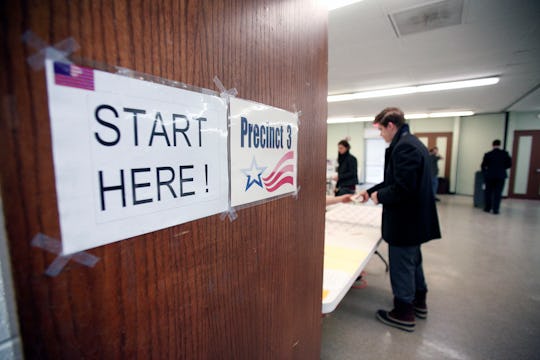 Bill Pugliano/Getty Images News/Getty Images
Who Can Vote On March 15? Almost 20 Percent Of The US
Tuesday is a big day for Republican and Democratic presidential hopefuls, as five states and one U.S. territory take to the polls in today's primary elections. Up for grabs are 367 pledged delegates for GOP candidates and 697 pledged delegates for Democratic hopefuls. With so many delegates at stake, who can vote on March 15? Residents in the states of Florida, Illinois, Missouri, North Carolina, and Ohio can cast their votes in both GOP and Democratic primaries on Tuesday, as well as registered Republicans in the U.S. territory of the Northern Mariana Islands — and those states and territory combined make up nearly 20 percent of the U.S. population voting today.
The advantage of each of these "Mega Tuesday" states is that all five are either in Eastern or Central time zones with polls closing within an hour to a half hour of each other — meaning the nation won't have to wait up late Tuesday night to start getting early returns in both races. Mega Tuesday is crucial across each party's field of candidates. Billionaire Donald Trump continues to steamroll his way through the GOP primaries while Florida Sen. Marco Rubio's campaign hinges on his home state. Likewise, Ohio Gov. John Kasich is hoping to clinch his home state on Tuesday. Meanwhile Vermont Sen. Bernie Sanders is hoping for another upset like last Tuesday's surprise win in Michigan.
Florida
While polls opened at 7 a.m. on Tuesday morning in the Sunshine State, voters in 16 of Florida's 67 counties cast their votes as early as Feb. 29, including Florida's largest county, Miami-Dade. However, Florida is a closed primary, meaning that only voters registered with a political party recognized by the state may cast their votes; Floridians had until Feb. 16 to update their party affiliation with the state. Most polls in Florida close at 7 p.m., with 10 counties closing at 8 p.m.
Illinois
Like Florida, Illinois also allows early voting — and there's already been massive early voter turnout in Chicago and Cook County before the polls opened for Tuesday's primary. Additionally, those who had not registered to vote prior to Tuesday's primary can still complete same-day voter registration in Illinois, but only in person and at their home precincts. New this year is a recent ruling whereby 17-year-olds can vote in the Illinois primary if they will 18 by the general election this year. Polls close at 7 p.m. Central Time.
Missouri
Missouri is an open primary, so anyone who is registered to vote can cast their one ballot in either of the Democratic and GOP races. Polls close at 7 p.m. Central.
North Carolina
Tuesday's primary will be the first day that new North Carolina voter ID laws will go into effect across the state, as well as other new voting laws that eliminated same-day registration and shortened the early voting period. Polls close at 7:30 p.m.
Ohio
Like Missouri, Ohio is an open primary — and even voters registered with one party may vote in another party's primary. "Nothing prevents voters from asking for a ballot of the opposite party," Josh Eck, a spokesman for Ohio Secretary of State Jon Husted, told the Columbus Dispatch. Additionally, like Illinois, voters who are 17 years old on March 15, but will be 18 by the general election on Nov. 8, are also eligible to vote on Tuesday. Polls close at 7:30 p.m.
Northern Mariana Islands
The remote Pacific location of the Northern Mariana Islands puts them 14 hours ahead of Mega Tuesday voters in the United States — as such, they've already cast their votes: Trump won the Northern Mariana Islands caucus Tuesday morning, taking home nine pledged delegates. On Saturday, former Secretary of State Hillary Clinton secured six pledged delegates to Sanders' four during the Democratic caucus in the Northern Mariana Islands.
Now what are you waiting for: Florida, Illinois, Missouri, North Carolina, and Ohio? Get out and vote.