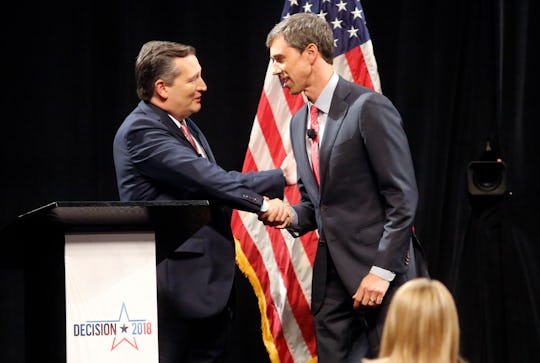 Pool/Getty Images News/Getty Images
Who Controls The Senate Now? Races Were Extremely Close In Many States
With another Election Day behind us, votes are being counted and preliminary results have started rolling in. Although most results at this point aren't technically official (they aren't typically until the following day in many cases), voters already have a pretty good idea of what went down on Tuesday, Nov. 6. Barring any recounts —or other special circumstances — many people are probably wondering: Who controls the Senate now? Races were extremely close in many states.
It looks as if Democrats came up short in a couple of key races for the 2018 midterm elections — meaning the Republicans seem to have maintained a Senate majority, as projected by CNN at approximately 10:33pm ET. Now, this doesn't come as a huge surprise to those who had been closely following races prior to the election. That's because control of the Senate has always been a complicated path for Democrats, even though they only had to flip two seats to get the job done. Democrats' best chance was to flip the seats in both Arizona and Nevada, hold onto some tough races in other states, and limit their losses to North Dakota. Then, a Beto O'Rourke win over Ted Cruz in Texas would have given them that final flipped seat. But alas, even an endorsement from Beyoncé couldn't make that happen.
Going into the midterm elections, the odds of Democrats taking over the House was significantly higher, according to NBC News. Democrats needed to win 23 seats in order to accomplish this, The Washington Post reported. Which sounds like a lot on the surface. Except, according to the Cook Political Report, 38 Republican-held seats were considered toss-ups or worse, and 27 GOP seats were listed in the "lean Republican" category. (This meant Republicans had the advantage, but the races were still competitive.) Compare these numbers to only three Democrats that were listed as a toss-up or worse, and two more that were on the "lean Democrat" list.
As with many elections, what it all boiled down to was voter turnout: Who showed up to the polls? It's too early to know what percentage of young people people actually voted during this election cycle — but this particular demographic was seen as key on Tuesday. A poll by the Institute of Politics at Harvard's Kennedy School of Government predicated young voters would turn out in record numbers this year, as Time reported, Specifically, it found that 40 percent of 18-to-29-year-olds said they would "definitely vote" in the midterm elections on Tuesday. (Compared to the previously highest youth voter turnout of 21 percent in 1986 and 1994.) What's more is 66 percent of young people in this poll said they supported Democrats taking back control of Congress, versus 32 percent who supported Republican control.
Although the blue wave — fueled by a number of factors, including President Trump's low approval ratings — wasn't enough for Democrats regain control of the Senate, the consolation price is a House majority. And you have to admit, the fact that a Democrat was so close to winning a Senate race in Texas is a pretty big deal. So don't be too discouraged about the midterm election results. Instead, use them as fuel for an even more sweeping blue wave in 2020 — and vote Trump out.