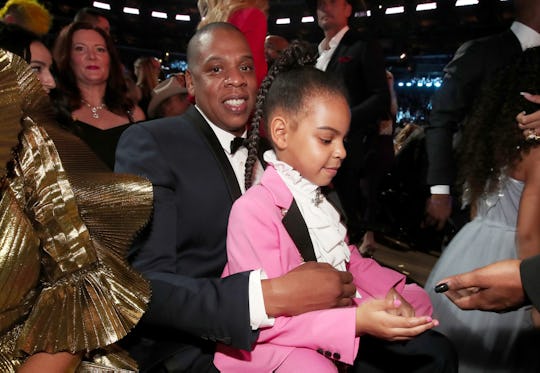 Christopher Polk/Getty Images Entertainment/Getty Images
Who Designed Blue Ivy's Grammys Outfit?
The Grammys' first family made waves when they arrived. On the red carpet, other artists couldn't help but share that they were absolutely stoked to see Queen Bey, Hova, and Princess Blue Ivy all together, dressed to the nines. Blue Ivy's look might even make her the best dressed attendee of the night, at least where the 3 to 5-year-old age group is concerned. So who designed Blue Ivy's Grammys outfit? Whoever it is, they deserve an award of their own.
Sunday's pink, Prince-inspired number was completed with a glittery pink purse and awesome, braided hair. Blue Ivy also opted for a classic broach to make her outfit super authentic. Beyoncé's history with Prince goes way back; The two performed together at the Grammys in 2004, which makes Blue Ivy's outfit even sweeter.
It's really no surprise that Blue Ivy looks so incredible this time around — her mom's done an impeccable job of styling her thus far. Blue Ivy's $11,000 dress at the 2016 MTV VMAs set the bar pretty high, as far as fashion is concerned. The Mischka Aoki "Grande Royalle" gown, replete with its own "laser-cut bodice and intricate 3-D gold metallic appliqué," shared E! online, was a show-stopper. Bringing everything together, Blue Ivy also wore a Lorraine Schwartz tiara, Giuseppe Zanotti nude sneakers, and adorable braids.
Still, 2017's outfit may have topped her prior awards show look:
Twitter was buzzing with fake Blue Ivy Grammys images all night. The main trending image featured a gold, sparkly dress and long train, but it was quickly made clear that this wasn't Blue Ivy at all. Definitely, another sparkly gown would have been a great choice, but the nod to the late artist was a bit more special.
The fact that the family didn't traipse down the red carpet, though, means that there wasn't an opportunity for hosts to inquire as to who dressed the crew. Pink suits for kids aren't easy to come by — at least, not in this specific, bubblegum variety. USA Today reported, though, that Blue Ivy's suit was made by who else but Gucci.
Throughout the night, Blue Ivy's joy was showcased. Clapping for her mom, playing with her purse, and joining in on James Corden's faux carpool karaoke made for a pretty fun time for the 5-year-old. In all that she did, she looked happy and bright — in a suit that great, how could you not?