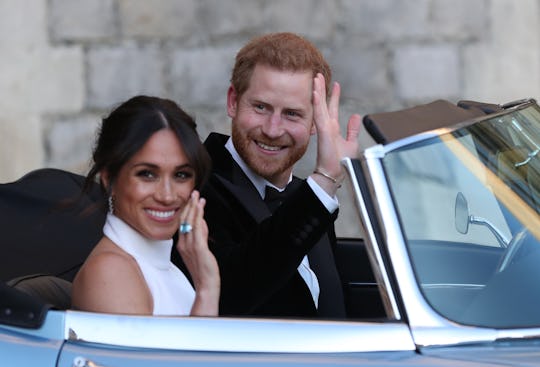 WPA Pool/Getty Images Entertainment/Getty Images
Who Designed Meghan Markle's Second Wedding Dress? Her Reception Gown Is Flawless
On Saturday, May 19, Prince Harry and Meghan Markle exchanged vows in St. George's Chapel at Windsor Castle, during what was the most highly-anticipated weddings of the year. As the world looked on, every little detail was under a microscope. From the guests' reactions, to song choices, to what what celebrity guests were wearing, to royal traditions — and of course, the bride's gorgeous gown — there was just so much to take in. And the post-ceremony festivities were no different. So who designed Meghan Markle's second wedding dress? Her reception gown is simply flawless, that's for sure.
In case you didn't catch who was behind Markle's first dress, allow me to fill you in on the deets. The Duchess of Sussex opted for an ivory silk gown designed by Givenchy's Clare Waight Keller, CNN reported. This dress was described as having a "shoulder-framing bateau neckline, simple A-line silhouette, and slim three-quarter sleeves," according to the publication. Additionally, the gown's train was short in comparison to Markle's 16.5-foot silk tulle veil. (Fun fact: This veil was embroidered with flora that represented the 53 countries of the Commonwealth.)
The reaction surrounding the bride's first gown was decidedly divided. Plenty of Twitter users thought she looked absolutely stunning.
Some thought it was too plain for the likes of a princess.
Others totally "went there" and compared it to Kate Middleton's wedding gown.
Vanity Fair reported back in April that the plan all along was for Markle to have two dresses on her wedding day. "She will have two dresses, one for the ceremony and another dress for the evening," a source told the publication at the time. "The plan is for her to change after the ceremony so that she can party the night away in something glamorous and less restrictive. Meghan can't wait to surprise everyone, especially Harry." As Brides reported, Kate Middleton also chose to have two dresses on her wedding day; Middleton swapped out her Sarah Burton gown for an Alexander McQueen back in 2011.
Needless to say, the anticipation was high on Twitter as the world waited to see the Duchess' second dress.
Markle's second wedding gown was designed by Stella McCartney, Elle reported. As the duchess was leaving for Frogmore House — the more intimate of the two wedding receptions on Saturday — the world got its first glimpse of the bride in dress number two.
Daily Express Royal reporter Richard Palmer tweeted that Markle's dress is a "bespoke lily white high neck gown made of silk crepe." Her shoes are by Aquazurra, "made in silky satin, with nude mesh, with soles painted in baby blue." Furthermore, George Northwood was the stylist behind Markle's hair this evening.
To be honest, the fact that Markle opted for a second dress isn't too surprising to me; "common" brides do it all of the time, after all. Because as fancy and gorgeous as ceremony gowns can be, let's get real — they're impossible AF to move/breathe in. So if a bride wants to walk around for any period of time without passing out or tripping, something more practical is the way to go.
And don't hate me, but ... I think the bride wore her second gown even better than the first. And I'm not the only one, apparently; Twitter thinks so, too.
Is it just me, or does dress number two just suit Markle better overall? The fit, the style — it's just so her. I'm in no way dissing the gown she wore during the ceremony itself because she looked absolutely gorgeous while marrying Prince Harry. (But let's be honest, Markle would look phenomenal wearing a trash bag with arm holes.) If I had to choose just one, though, it's Stella McCartney all the way.