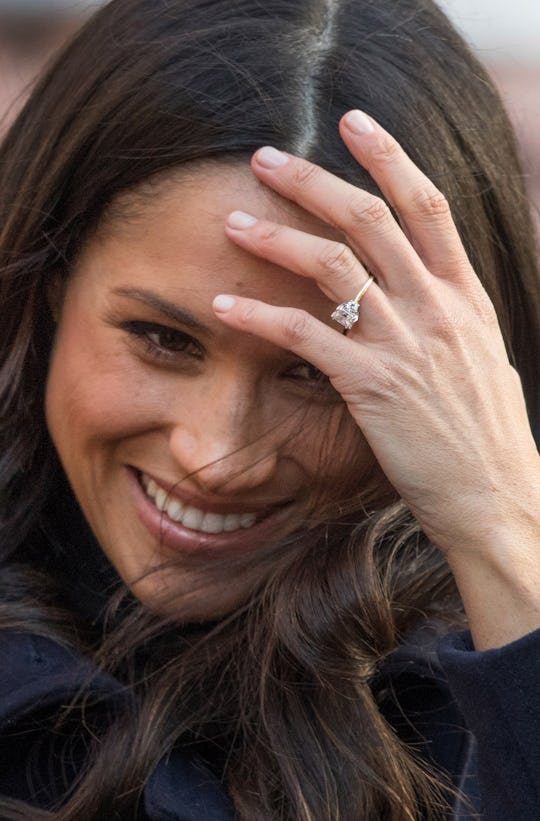 Christopher Furlong/Getty Images Entertainment/Getty Images
After Much Speculation, We Finally Know Who Designed Meghan Markle's Wedding Dress
Although we know deep down that the royal wedding is meant to be about true love, family, and cute pics of Princess Charlotte waving at the cameras, there's one major reason people really tunes in to watch. To see what the bride is wearing, of course. Although some details about the royal wedding food and flowers were leaked in the weeks leading up to the big day, the royal wedding dress deets were strictly classified. So now that it's all said and done, all anyone wants to know is who designed Meghan Markle's wedding dress? Because it was absolutely stunning.
Leading up to Saturday's ceremony, fashionistas the world over were betting on what Markle's dress would look like. Markle was a fashion icon long before she became Prince Harry's wife, so chances were good that her dress would be breathtaking. People were betting on fashion houses such as Alexander McQueen, Burberry, Erdem, Stella McCartney, and Ralph & Russo, among others. Others assumed that she would go with her longtime friend and designer Roland Mouret for her wedding dress. They were all very good bets, as it turned out, but no one could have predicted how gorgeous the actual dress would be on Saturday.
In the end, Markle decided to go with Givenchy Haute Couture wedding gown by Clare Waight Keller, and boy was it beautiful. The dress was traditional in the sense that it had sleeves and had some body at the bottom — similar to Kate Middleton's. After the ceremony, parade, pictures, and a luncheon with 600 other guests just after saying her vows, it's likely she has a change or five that will be kept private. In any case, Markle's primary wedding dress was definitely worth the wait.
When Kate Middleton married Prince William in 2011, she went with a more traditional dress by Alexander McQueen. Almost immediately, designers and brands went to work creating dresses that looked just like it. That turned out to be a huge mistake, according to Racked. David's Bridal, for example, admitted to the outlet that women didn't want to feel like they were dressing up as Middleton for their wedding day in their replica. Brides might want something that has the same vibe as a royal wedding dress, but not the same thing.
So this time, brands will be all the more ready to ride the wave of Markle's wedding dress choice. What they'll likely do is take cues from the details of the dress — like the overall drape or something — and use those to inspire new designs instead of copying it outright.
For example, while women didn't want to dress just like Middleton for their big day, strapless wedding dresses started going out of style after her wedding. Now, according to the same Racked report, many brides choose to have some sort of sleeve or coverage up top. Just like Middleton did. Who knows what details brides will be drawn to from Markle's royal wedding day look?
Roberta Correia, the deputy digital director of Brides magazine told Racked that Middleton's dress still influences bridal trends, even on this year's runways. Correia said:
[Kate's dress is] still influencing bridal designers today, seven years later. Long sleeves, V-necks, and lace have been seen all over the bridal runways since, even at the most recent Bridal Fashion Week. H&M released a new dress as part of their wedding collection, which looked almost exactly like Kate's.
Markle's dress will likely do the same, but it probably won't be noticeable right away. Over time, details from Markle's dress will be slowly adapted into new bridal designs. So take a long look at her gown and decide what you like about it now — because if you plan on buying a wedding dress or anything super formal in the next decade, your choices will likely be somehow inspired by the dress we all saw this weekend. Which is definitely not a bad thing. Now, if only we could get a glimpse of those late-night reception looks.