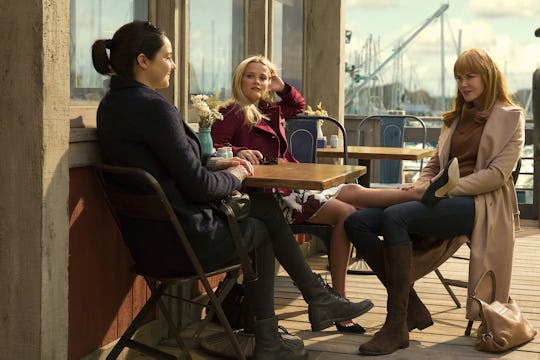 Hilary Bronwyn Gayle/HBO
The 'Big Little Lies' Clothes Will Give You Fashion Envy
In just seven episodes, Big Little Lies developed a distinct visual style all its own, full of perfect little details that reflect the lives of the characters inhabiting its world. Not only are the houses drool-worthy both inside and out, the fashion of its main characters is stylish enough to make anyone envious. Each woman has her own way of presenting herself that's specific to who she is and how she wants people to perceive her. The costumes on Big Little Lies do exactly what they're supposed to do: they look beautiful but they also say something about the people wearing them. But who designed the Big Little Lies clothes?
The clothes themselves come from a variety of designers, but Alix Friedberg is the costume designer for the series. She's worked in both movies and television, most recently handling the costumes for shows like Modern Family and True Detective. For Big Little Lies, Friedberg gave each character her own color palette and stuck to several designers that captured the personal style of the woman in question. The financial situations of the characters played a part too, with Celeste's more affluent lifestyle and Jane's less ritzy one having an impact on their wardrobes.
Friedberg took inspiration from various sources, including classic Hollywood actresses, The Sartorialist, and her own experiences as a mom. She also welcomed collaborative efforts from the actors. "If an actor doesn't feel comfortable walking in the character's shoes (both literally and metaphorically), then I haven't done my job," Friedberg told W magazine. "One of the most rewarding parts of being a costume designer is watching the actor transform into the character in the fitting room. My job is to give an actor the second skin they need to become another person."
Madeline
Madeline's style is very put-together and preppy, and she's all about bold prints. Her clothes have come from brands like Dolce & Gabbana, Carolina Herrera, Kate Spade, and J. Crew. She also tries a little too hard to look picture-perfect.
"Madeline is the most buttoned-up of the bunch," Friedberg told Racked. "She's overly accessorized — the type of woman who wakes up extra early in the morning to put on her makeup and make sure her outfit is completely coordinated, so she's ready for anything. Her look is very calculated, as is her personality!"
Celeste
Celeste's looks are expensive but effortless, all in a soft neutral palette with a romantic flair. Friedberg pulled from all sorts of brands, including Max Mara, The Row, Céline, and Chloé. "She's so naturally stylish is a classic way, and has the appearance of a perfect aspirational existence," Friedberg told Variety.
It was also important to keep Celeste covered up because she tries to hide the bruises that result from her abuse, which had the dual purpose of protecting Nicole Kidman slightly during the more violent scenes.
Jane
Jane is easily the most casual of the women and the least well-off, which is reflected in her highly practical wardrobe. Her color palette is darker and less attention-getting. Lots of her clothes are thrifted, or come from the Gap, Madewell, and even Target. All of Jane's efforts go into her son, so according to Friedberg, Jane would make sure he's put together with new clothes before worrying about herself.
Renata
Renata is something of a show-off when it comes to her style and she also showcases her wealth in what she wears. "Her character is all about designer everything — she's very label-conscious, and whereas Celeste wears designer in an effortless way, Renata clearly tries very hard," Friedberg told Racked. "Her wardrobe is the most expensive one on the show; every accessory, even, is a label. There's a lot of structure in her clothes, and they tend to be darker; we do a lot of black on her."
Friedberg's go-to designer for Renata was Alaïa, though she also dressed the character in Stella McCartney, Roland Mouret, Gucci, and Chanel.
Bonnie
For Bonnie, Friedberg favored brands like Free People, Zara, and Anthropologie, though a lot of her wardrobe is vintage, too. Bonnie's cool, free-spirited nature is reflected in what she wears, and a lot of her stylishness comes from Zoë Kravitz's ability to look good in literally anything.
"Zoë Kravitz has such a natural coolness to her, so my job was making her more accessible, really!" Friedberg said to Racked, adding later in the interview, "It's all very organic and flowy. Bonnie's not trying to upstage anyone – she just naturally does because she's so beautiful! She makes Zara look like a million dollars."
Friedberg infused the characters' wardrobes with a real sense of life and personality, which made her work on Big Little Lies a huge success.