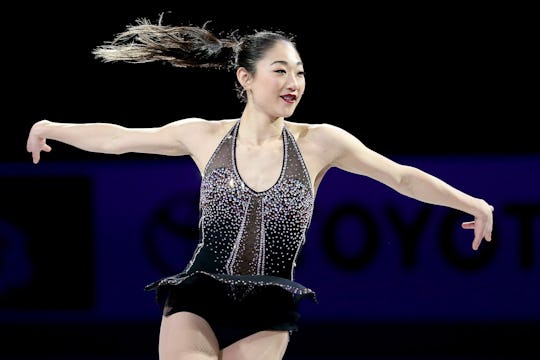 Matthew Stockman/Getty Images Sport/Getty Images
There Are Some Familiar Designers Responsible For The US Olympic Ice Skating Costumes
"Who are you wearing?" It's a common question for celebrities who regularly walk the red carpet in stunning, floor-length gowns or custom-made tuxedos. They say things like, "Oscar de la Renta" or "Armani" and Twitter conversations ensue about hits and misses, who wore it best, and where to find a knockoff. But it's not a topic you would think about when it comes to the 2018 Winter Olympics. And, yet, when you find out who designs the US Olympic ice skating costumes, you might be surprised.
According to People, for more than 20 years Vera Wang — yes, the Vera Wang behind some of the most stunning red carpet and wedding gowns you'll ever see — has designed many of the figure skating costumes featured in the Olympics, including those worn by Nancy Kerrigan, Michelle Kwan, and Evan Lysacek. This year she has designed costumes for American figure skater Nathan Chen, People noted.
"It's not for the faint of heart," Wang told People in an interview. "If one strap were to break, or if the beading on the sleeve gets caught when they turn, their whole Olympics is over. That is how serious it is. It's absolutely nightmarish!" You guys, this sounds stressful AF.
Other big names include Roberto Cavalli, who has designed costumes for Italian figure skater Carolina Kostner, according to Cosmopolitan. Most costumes cost anywhere from $1,000 to $5,000, and are custom-made for the skater, including pricey hand-sewn reinforced seams and embellishments like Swarovski crystals, the magazine noted. And according to TIME, skating federations can pay for up to 50 percent of those costs for some of the top figure skaters, but for the rest, they're kind of on their own.
On the other hand, some of the competitors are a little more DIY. For instance, Madison Hubbell's mother, Susan, makes the costumes for her and ice dance partner Zachary Donohue, according to NBCOlympics.com. The site noted that the "design team" shops for materials together and Susan Hubbell even makes the 12-hour drive from Detroit to Montreal — where her daughter lives — several times per season for fittings and adjustments.
"It is very special, I definitely feel a big connection to her support when I'm able to wear something she's made," Madison Hubbell told WWLP. "It's nice to take a piece of her out there on the ice with me."
There's also so-freaking-cute couple Madison Chock and Evan Bates who design all of their costumes. Chock even creates costumes for other skaters, according to Get Up. "I would love to be a fashion designer or involved in the fashion world," Chock told NBCOlympics.com when asked what she would be doing if she was not an athlete.
And, while some skaters are thrilled to have access to top designers, there are others who, like Chock, enjoy seeing their own designs come to life. That was especially the case for champion figure skater Johnny Weir, who is known for his extravagant, self-made competition costumes.
"Everyone has a different process," the former competitive skater told The Hollywood Reporter. "I, myself, am very diplomatic. I made sure my entire career was managed underneath my own thumb. Costuming, like everything else — musical selection, coaching changes, choreography — was all decided by me."
Weir, who describes himself as "a very visual person" said he would envision himself on television or medal stands, and then decide whether or not a particular costume idea would work for him. "I never went on the ice in something that I didn't have a hand in designing," he told the magazine.
I don't know about you, but all of this talk of Olympic glamour has me ready to pop popcorn and take in the ice rink fashion similar to the way I do with the red carpet on Oscar night. And I'm not going to lie, a tiny part of me wants one of those costumes in the same way I coveted Jessica Biel's Oscar 2017 sparkly, gold KaufmanFranco dress. Just saying, Vera Wang.
Check out Romper's new video series, Bearing The Motherload, where disagreeing parents from different sides of an issue sit down with a mediator and talk about how to support (and not judge) each other's parenting perspectives. New episodes air Mondays on Facebook.