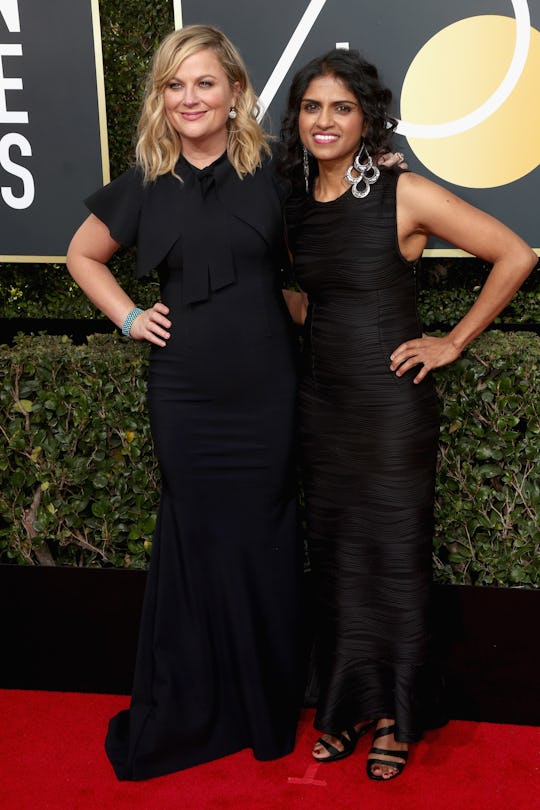 Frederick M. Brown/Getty Images Entertainment/Getty Images
Everyone Needs To Know About Amy Poehler's Golden Globes Date
While the Golden Globes is a celebratory occasion, it's also one that involves politics, awareness, and, this year, the #MeToo and #TIMESUP movements. Celebrities, wearing all black in solidarity with the countless women who've experienced sexual assault, sexual harassment, and workplace inequality, also brought game-changing activists from across the country to highlight important movements working to end sexism, inequality, and sexual violence. So, who did Amy Poehler bring to the Golden Globes? Saru Jayaraman is a name every single human being should know, and a fierce advocate for women in the workplace.
Jayaraman is "the Co-Founder and Co-Director of the Restaurant Opportunities Centers United (ROC United) and Director of the Food Labor Research Center at University of California, Berkeley," according to UC Berkley Labor Center's website. Described as "a workplace justice advocate for restaurant workers," by The New York Times, Jayaraman is a graduate of Yale Law School and the Harvard Kennedy School of Government. According to UC Berkley she was "profiled in The New York Times 'Public Lives' section in 2005, named one of Crain's '40 Under 40' in 2008, was 1010 Wins' 'Newsmaker of the Year' and New York Magazine's "Influentials" of New York City." In other words, she's a change-maker dedicated to fighting for restaurant workers in the name of fair wages, workplace equality, and safety.
According to the US Equal Employment Opportunity Commission, more than 170,000 sexual harassment claims were filed between 1995 and 2016. Of those, 83 percent came from women, and over 10,000 were filed by employees of full-service restaurants. According to a report from BuzzFeed, restaurant workers experience sexual harassment at a higher rate than workers in every other industry.
And that's precisely what Jayaraman is trying to change. According to Restaurant Opportunities Centers United's website, the center is dedicated to "improving wages and working conditions for the 14 million people who work in America's restaurant industry." The center is made up of over "25,000 people who work in restaurants, over 300 high-road employers, and thousands of engaged consumers united for raising restaurant industry standards."
Those standards, unfortunately, have created a hostile environment in which sexual assault and harassment isn't only the norm, but often encouraged. Well-known celebrity chef and author Anthony Bourdain spoke with Refinery 29 after the allegations against Harvey Weinstein surfaced in 2017, saying, "It's probably too late to change the hearts, minds, and attitudes of generations of old-school male chefs, but it's definitely not too late to change their behavior, if only out of self-interest."
It's not just safe, equal working conditions that Jayaraman is working to ensure; she's also highly invested in giving every restaurant working a fair wage, especially women and people of color. Originally founded after September 11th, 2001 to provide support to people who work in restaurants who were displaced as a result of the World Trade Center tragedy, Restaurant Opportunities Centers United has won "more than $10 million in misappropriated tips and wages and discrimination payments for people who work in restaurants," according to the center's website. Who runs the world? Well, you know already.
Wearing black on a red carpet will, arguably, not change the world. But the women doing the work to change the lives and working conditions of millions of people will. Which is why the decision by women in positions of great power, with great celebrity status and impressive platforms, to bring activists working in the trenches to such a celebratory Hollywood event, matters. The more people who know who Saru Jayaraman is, and what she stands for, is working towards, and the differences she's making, the better this entire world will be.
To Jayaraman: we salute you. Thank you.
Check out Romper's new video series, Romper's Doula Diaries:
Watch full episodes of Romper's Doula Diaries on Facebook Watch.