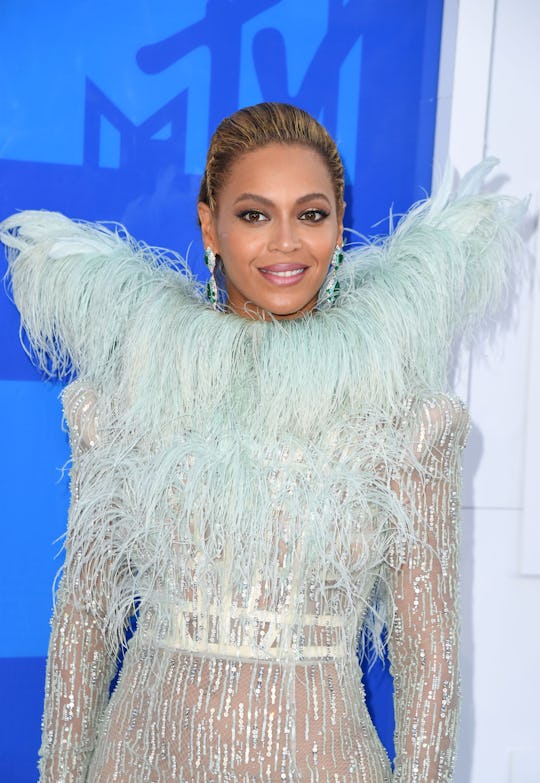 ANGELA WEISS/AFP/Getty Images
Who Did Beyonce Bring To The VMAs? Her Guest List Made A Powerful Statement
The MTV Video Music Awards have always been about musicians making big statements. But the awards are not just about music or mingling pop stars. This year, the best statement on the red carpet was Beyoncé's troupe of VMAs guests — the mothers of black men killed by police officers in recent years, all of whom were also featured in her visual album, Lemonade. Beyoncé walked the carpet in a fairy-tale dress with her daughter Blue Ivy, who also looked like a straight up princess. But her entourage also included Wanda Johnson, mother of Oscar Grant, Gwen Carr, mother of Eric Garner, Sybrina Fulton, mother of Trayvon Martin, and Lesley McSpadden-Head, mother of Michael Brown.
Winnie Harlow and Quvenzhané Wallis, who were also in Lemonade joined them. It makes sense that Beyoncé would bring the women along with her, since she was nominated for 11 awards on Sunday night, including best long form video for her visual album. It's only right to bring the co-stars. But that she brought the mothers of men who were killed by police officers — the faces of Black Lives Matter — is bigger than any performance she would put on later in the night.
Lemonade wasn't just about a troubled relationship. It was about identity. Bringing the mothers of slain black men with her to the VMAs was a perfect way for Beyoncé to say that the conversations surrounding Black Lives Matter are conversations everyone needs to keep having. When she featured them in Lemonade, it wasn't for show. Bey is walking the walk when it comes to making sure that Black Lives Matter is something everyone is talking about.
This summer, Beyoncé was also featured in a video called "23 Ways You Could Be Killed If You Are Black in America," along with Alicia Keys, Rihanna, Pharrell, Lenny Kravitz, Pink, Queen Latifah and others. In it, each star recites the way that a specific black person has died recently. Bey talks about Philando Castile — and watching her say that he died, "in [his] girlfriend's car with a baby in the backseat," should be enough to make everyone pay attention to what she, and so many others, are fighting for.
Beyoncé also released a statement on her website saying that black Americans need to take action. "We're going to stand up as a community and fight against anyone who believes that murder or any violent action by those who are sworn to protect us should consistently go unpunished," she wrote.
Featuring the mothers of the slain men in her visual album and then bringing women to the VMAs with her is the best way for Beyoncé to stand up and fight.