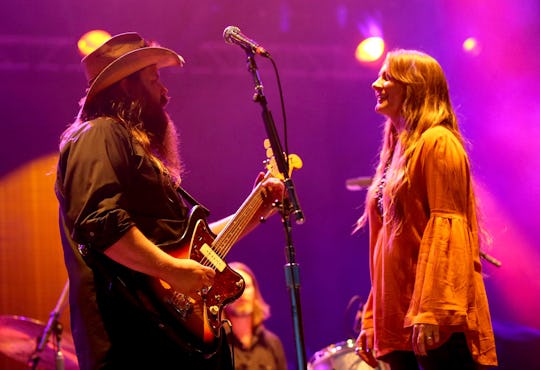 Mark Davis/Getty Images Entertainment/Getty Images
Who Did Chris Stapleton Bring To The ACM Awards? Morgane Stapleton Is A Name To Know
On Sunday night, country music star Chris Stapleton got quite the introduction from ACM Award co-hosts Luke Bryan and Dierks Bentley early in the night. As the camera panned to the 37-year-old singer from Kentucky, fans got a glimpse of the lovely lady at his side. So who did Chris Stapleton bring to the ACM Awards? Stapleton brought none other than his wife and fellow performer, Morgane Stapleton, an accomplished country musician in her own right, to the show.
Chris Stapleton is nominated for five awards, winning both an early ACM Award for Best New Male Vocalist before the awards aired Sunday night. Stapleton also took home the first ACM Award of the night for Song of the Year for his tune "Nobody to Blame." His most recent album, Traveller, was received a nomination for Album of the Year. In a 2015 interview with Paste Magazine, Stapleton spoke lovingly of Morgane as both partner and influence in his music, saying: "This record probably wouldn't exist without her."
Morgane is best known for her work as a songwriter; she penned Carrie Underwood's hit, "Don't Forget to Remember Me." The Stapletons met while working in the industry, married in 2007, and have two children together.
In an interview with The Washington Post in August 2015, Morgane shared what her first date with Chris was like:
Eventually he asked me to write a song with him, and that ended up being our first date. We didn't get much writing done that night.
The couple of nine years are apparently still very much in love. On Sunday, the Stapletons spoke with CBS News, with Morgane telling CBS correspondent Mark Strassman that she was still "very smitten" with her husband, as much as she was from the day they first met back at Chris's music publisher's office.
The Stapletons performed the titular song from Traveller on CBS's The Late Show With David Letterman in April last year:
Stapleton's debut solo album, Traveller, has already won a 2015 CMA Award for Album of the Year. Sunday's ACM Award nomination would be Stapleton's second win for the album if he takes home the award tonight.