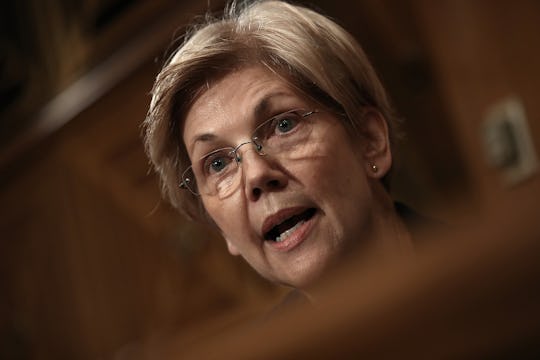 Win McNamee/Getty Images News/Getty Images
See The Letter Elizabeth Warren Tried To Quote
On Monday night, the Senate began a confirmation debate for Sen. Jeff Sessions of Alabama for the attorney general Cabinet position. As Massachusetts Sen. Elizabeth Warren attempted to speak, she was shut down by Senate Majority Leader Mitch McConnell. Warren had been attempting to read a letter in her criticism of Sessions: Who did Elizabeth Warren try to quote on the Senate floor? Coretta Scott King, Martin Luther King Jr.'s widow. Sessions has faced a difficult battle in his path to becoming attorney general, facing accusations of racism during his term as U.S. attorney in Mobile, Alabama. Sessions' office hasn't responded to Romper's requests for comment regarding the racism allegations.
McConnell invoked a rarely used Senate rule to cut off Warren, Rule XIX: "No Senator in debate shall, directly or indirectly, by any form of words impute to another Senator or to other Senators any conduct or motive unworthy or unbecoming a Senator." Because Sessions is a sitting senator, he's protected by this Senate rule — which could been interpreted as a sort of "shield law" during his confirmation hearings. When cut off by McConnell, Warren replied, "I am surprised that the words of Coretta Scott King are not suitable for debate in the United States Senate." Warren was ultimately silenced by McConnell, and told to retake her seat.
The letter in question was written by King in March 1986, when Sessions was nominated to the U.S. District Court for the Southern District of Alabama by then-President Ronald Reagan. King wrote to Sen. Strom Thurmond of South Carolina, who was on the Senate Judiciary Committee at the time, to voice her opposition at Sessions' nomination to the federal court. Sessions nomination to the court was ultimately rejected 30 years ago. Here is the specific quote from King's letter to which McConnell took exception, stating that Warren "impugned" Sessions with these words:
Mr. Sessions has used the awesome powers of his office in a shabby attempt to intimidate and frighten elderly black voters.
The hashtag #LetLizSpeak began trending almost immediately on Twitter as a result. Democrats in both the Senate and House were outraged at McConnell's actions, as were plenty of people who were watching the confirmation debate live.
According to McConnell, these words were enough to silence Warren for the rest of the 30 hours of scheduled debate on Sessions — and yet, just a few hours later, the words McConnell tried to have silenced were read in full, as two of Warren's Democratic colleagues defied McConnell when it was their turn to speak. New Jersey Sen. Corey Booker yielded the floor to Oregon Sen. Jeff Merkley, who read King's letter in full. When Booker retook the floor to speak, he harshly criticized McConnell's decision to silence one of their fellow senators: "She wasn't just quoting something that she heard on the street," Booker said on the Senate floor. "She was actually quoting Coretta Scott King."
Below is King's letter in full — that Warren was forbidden to read on the Senate floor:
Dear Senator Thurmond:
I write to express my sincere opposition to the confirmation of Jefferson B. Sessions as a federal district court judge for the Southern District of Alabama. My professional and personal roots in Alabama are deep and lasting. Anyone who has used the power of his office as United States Attorney to intimidate and chill the free exercise of the ballot by citizens should not be elevated to our courts. Mr. Sessions has used the awesome powers of his office in a shabby attempt to intimidate and frighten elderly black voters. For this reprehensible conduct, he should not be rewarded with a federal judgeship.
I regret that a long-standing commitment prevents me from appearing in person to testify against this nominee. However, I have attached a copy of my statement opposing Mr. Sessions' confirmation and I request that my statement as well as this be made a part of the hearing record.
I do sincerely urge you to oppose the confirmation of Mr. Sessions.
Sincerely,
Coretta Scott King