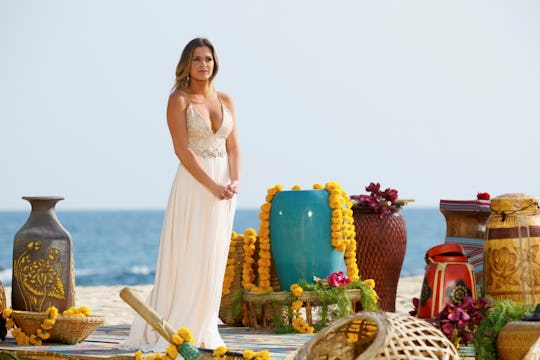 Matt Klitscher/ABC
Who Did JoJo Pick on 'The Bachelorette'? Twitter Is Sad For The Loser
After admitting to her parents that she was in love with both of her final two, JoJo Fletcher finally chose her would-be fiance. Both Jordan Rodgers and Robby Hayes tugged at old insecurities of JoJo's. Jordan hasn't shown a ton of enthusiasm for getting married or a forever life with JoJo. Plus, she has old trust issues and Jordan is very much "a playboy," as her mom put it. Robby came off much more genuinely to her family, but he was really fresh off an old relationship, which worried JoJo. So who did JoJo pick on The Bachelorette? Twitter was pretty devastated for Robby.
Interestingly, Jordan didn't ask JoJo's father for her hand in marriage in their one-on-one conversation, while Robby delivered a heartfelt speech asking both of JoJo's parents for their blessing to marry her. Needless to say, her parents were super won over by one of the two guys, while JoJo's brother not-so-gently reminded her that she wasn't "picking a New Year's Eve date," when she expressed that she loved how silly and playful her relationship with Jordan was. Robby was clearly the "safe" option while Jordan was more alluring, but potentially a heartbreaker. JoJo finally did say I love you to Robby, but she wouldn't let him get down on one knee to propose.
She broke up with him and turned him away, breaking Twitter's collective heart.
Next up was Jordan, who was the overwhelming favorite to win from the beginning. JoJo also stopped Jordan from getting down on one knee, but it was only to tell him "I love you" for the first time before he proposed. JoJo wanted Jordan to know where she stood and how she felt before he proposed, and, let's be honest, it probably injects a tiny bit of normalcy into a really bizarre scenario to at least know for sure that the person you're about to propose to is in love with you. After JoJo told Jordan she loved him, he did, in fact, get down on one knee and propose. JoJo accepted and from that point on, the I love yous from both of them didn't stop. Twitter had a pretty mixed reaction to this.
JoJo expressed feeling hurt over lack of support for her and Jordan's relationship on the "After the Rose" special, and rumors are already circulating that the pair have already broken up. But hopefully JoJo can prove her naysayers wrong and become a franchise favorite couple.