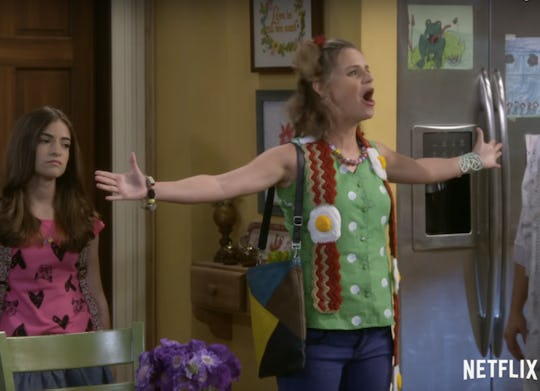 Who Did Kimmy Gibbler Have Kids With On 'Fuller House'? She's Still On Good Terms With Ex-Husband Fernando
For Full House fans, the Netflix reboot of the family-friendly series is a dream come true. Fuller House picks up the saga years later when DJ, recently widowed, and her best friend Kimmy, recently divorced, move back into the famed San Francisco row house to help each other raise their children. But fans are still wondering, who did Kimmy Gibbler have kids with on Fuller House? That's a good question.
Fans may remember Kimmy Gibbler as the rebellious, underachieving troublemaker that lived next door to the Tanners. She was a nuisance to her parents (once getting grounded to the Tanners' house) and even to the Tanners, but they always welcomed her in because she was DJ's best friend, through thick and thin.
In the Netflix reboot, Kimmy Gibbler is back, along with her daughter, Ramona, who seriously takes after her mother. Though Kimmy is more mature and has landed on her feet after some hard times, Kimmy's daughter has her mother's same rebellious spirit. There's no doubt whose daughter she is. According to Showbiz 411, here's how the writers of the show first described Ramona's character:
RAMONA 12-13 years old. Ramona is bi-racial, passionate, sharp-tongued, tough, kooky, a drama queen. Ramona considers herself Latina and has fully embraced her Latina heritage even though she is half-white. Living with the white-bread Tanners is totally lame.
Like Kimmy, Ramona is sharp, but not necessarily book-smart. She doesn't like school, but instead gravitates toward boys, fashion, social media, and her own reputation. It seems like she still has a lot of growing up to do, and given that she's not too happy about living with the Tanners, that growing up will come with some serious growing pains. It will be interesting for fans to watch this next generation go through the same trials, mood swings, and lessons as their parents (but this time with cell phones).
There is not much information yet on Ramona's father, Fernando (who will be played by Dallas actor Juan Pablo Di Pace, according to TVLine), but apparently Ramona worships him, and consequently resents her mother for leaving him and breaking up their family. What we do know is that sometime between the original Full House finale and the start of the reboot Kimmy and Fernando were married, and then in 2003 they had Ramona. The divorce was relatively recent, but Kimmy and Fernando are still on relatively good terms. He will no doubt make an appearance at some point.
Kimmy Gibbler always seemed to want to be part of the Tanner family, and in the new season, that dream is finally coming true. When Kimmy and her daughter move into the Tanner House with D.J., Stephanie, and DJ's three sons, they become part of one, big, messy family — which is right where this story started. Fans have between now and Feb. 26 to re-watch all the old episodes before the new ones are released. What are you waiting for? It's time to get going.