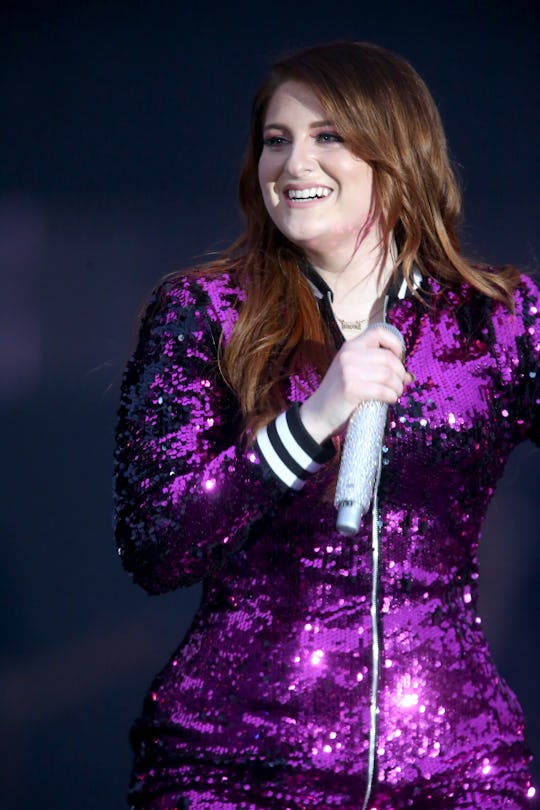 Frederick M. Brown/Getty Images Entertainment/Getty Images
Who Did Meghan Trainor Bring To The Billboard Music Awards? She Didn't Bring Her Dad
Meghan Trainor usually keeps it all in the family on red carpets. But the "All About That Bass" singer arrived at the Billboard Music Awards on Sunday with an unfamiliar man on her arm, breaking from her traditional father-daughter date (the singer usually walks the red carpet with father, Gary). Since her dad wasn't with her, who did Meghan Trainor bring to the Billboard Music Awards?
Turns out the handsome man on the singer's arm was none other than Trainor's older brother, Ryan Trainor. The Trainor siblings are pretty tight. In July 2015, the chart-topping singer revealed she lives with her two brothers—her other brother, Justin, is younger—during an appearance on Jimmy Kimmel Live.
Ryan travels around the world with his famous sister, documenting her hectic life on film. In that same late-night interview, Trainor disclosed that one of her brothers—later revealed to be Ryan—is on her payroll and was hired to film his sister's life on the road.
Ryan looked casually sophisticated in a grey suit and black shirt (top buttons undone, of course), while Meghan stunned on Sunday night's magenta carpet, decked out in sequins she was rocking a fitted, long-sleeved midi-dress. The pop star's sparkling get-up was so bright, her brother Ryan had to keep his sunglasses on. (JK, it was really sunny in Las Vegas, where the awards were held.)
With style like theirs, Meghan and Ryan Trainor may give brother-sister duo Taylor and Austin Swift a run for their money in the lovable department.
The chart-topping singer is one of many high profile artists performing at the 2016 Billboard Music Awards. Trainor will be performing her hit pro-consent anthem "No" live on stage at tonight's broadcast.
Ryan Trainor first caught fans eyes in December 2015 after he scored a "world's best brother" award. The filmmaker surprised his little sister by decorating her home with festive lights for Christmas. Meghan posted a video on Instagram documenting her tearful reaction to the pleasant surprise.
"I have the best big brother in the world," the pop star captioned the clip. "[Ryan] surprised me with crazy Christmas decorations because he knows I'm obsessed with Christmas and lights."
It's obvious the 22-year-old is super family-orientated. At the 2015 Grammys, the singer told Entertainment Tonight that it was her father, Gary Trainor, who told her men like curvy women inspiring her first hit "All About That Bass."
"My mom told me to always not worry about your size and be confident," she divulged, quoting her chart-topping single. "But I think that [my dad] was the one who really said, 'Don't worry baby–boys like booty to hold at night.' My mom's too sweet, she's too innocent."
Papa Trainor has been spotted on red carpets at the Grammys, Kids' Choice Award, The iHeartRadio Music Awards. The proud dad was even present to witness Trainor winning her first Grammy for Best for Best New Artist.
Trainor recalled the moment in an Instagram post. "My dad whispered 'you made it' before I walked up and I lost it," the singer wrote.
It's nice to see how supportive Meghan Trainor's parents and siblings are of their budding pop superstar. Hopefully, Trainor will continue bringing her family as red carpet dates for more #familygoals moments.