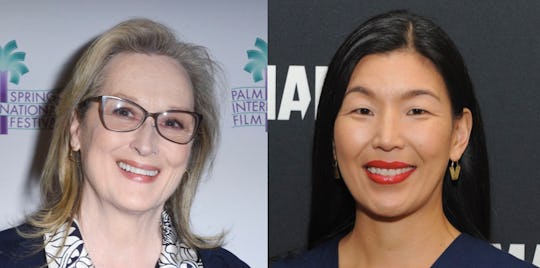 Angela Weiss/Getty Images Entertainment/Getty Images & Vivien Killilea/Getty Images Entertainment/Getty Images
Meryl Streep Walked The Golden Globes Red Carpet With A Powerful Activist
With the Time's Up movement in full motion, the initiative's impact on Hollywood is making a lasting impression at the 2018 Golden Globes. In addition to wearing black to take a stand against gender inequality and battling sexual harassment in Hollywood and workplaces across the country, a number of powerful actresses walked the red carpet with an activist by their side. And Ai-jen Poo, who Meryl Streep brought to the Golden Globes this year, should be on everyone's radar.
The eight activists who joined A-list celebs on the red carpet on Sunday evening said in a joint statement, according to Entertainment Weekly, that they hope their presence will bring attention to survivors of abuse instead of the abusers, adding:
We believe we are nearing a tipping point in transforming the culture of violence in the countries where we live and work. It's a moment to transform both the written and unwritten rules that devalue the lives and experiences of women.
And Ai-jen Poo's work has been transforming culture for the better for years. The American award-winning activist is the executive director of the National Domestic Workers Alliance (NDWA) as well as the co-director of Caring Across Generations, which ensures access to affordable care for the nation's aging population and access to quality jobs for those who care for them, primarily immigrant worker women, according to the organization's website.
As Streep — who is nominated for her performance in The Post — was interviewed by Ryan Seacrest on E!'s red carpet, the actress explained the message behind bringing such impressive activists, like Ai-jen, to the Golden Globes with her this year, according to CarterMatt.com:
People are aware now of a power imbalance, and it's something that leads to abuse. It's led to abuse in our own industry and [with domestic workers]. It's in the military, in Congress, and everywhere. We want to fix that. We feel emboldened in this moment to stand together in a thick, black line.
Ai-jen not only does meaningful work everyday, but she's been recognized for it on many occasions beyond Sunday evening. For example, according to the NDWA's website, she's was honored in 2014 as a MacArthur Foundation "genius" fellow, was named on TIME's 100 Most Influential People in the World in 2012, and was recognized on Fortune's World's Greatest 50 Leaders in 2015 and 2016.
Her presence at the Golden Globes brings more awareness to the #TimesUp movement, which aims to combat sexual assault, harassment, and misconduct in the workplace. The initiative is raising money for a legal defense fund to support survivors who can't afford a lawyer, so they can confront the abuse of power that is present in every industry.
Other powerful actresses who walked alongside activists at the ceremony include Michelle Williams, Emma Watson, Susan Sarandon, Laura Dern, Shailene Woodley, Amy Poehler, and Emma Stone, according to Entertainment Weekly. In addition to adding Ai-jen as someone to follow on Twitter if you aren't already, people will certainly want to pay attention to the women who joined those stars on the red carpet, who include Tarana Burke, the founder of the #MeToo movement, Marai Larasi, Rosa Clemente, Mónica Ramírez, Calina Lawrence, Saru Jayaraman, and Billie Jean King. The women, according to The New York Times, added in their joint statement:
We believe that people of all genders and ages should live free of violence against us. And, we believe that women of color, and women who have faced generations of exclusion — Indigenous, Black, Brown and Asian women, farmworkers and domestic workers, disabled women, undocumented and queer and trans women — should be at the center of our solutions. This moment in time calls for us to use the power of our collective voices to find solutions that leave no woman behind.
Hopefully with these women's names getting so much recognition after seeing them with A-list celebs at the 2018 Golden Globes, the work that Ai-jen and these other activists do on a daily basis will inspire more people to say "Time's Up."
Check out Romper's new video series, Romper's Doula Diaries:
Watch full episodes of Romper's Doula Diaries on Facebook Watch.