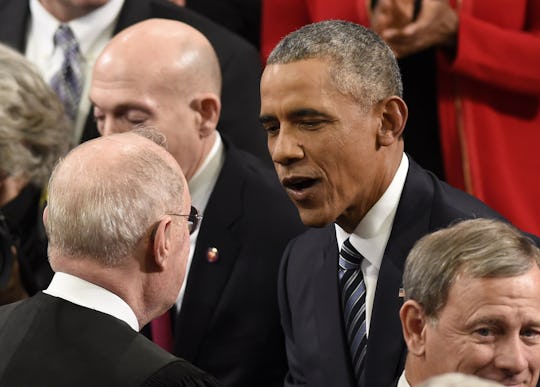 Who Did Obama Invite To The State Of The Union? The List Includes Plenty Of Amazing People
President Barack Obama's final State of the Union address is Tuesday, Jan. 12, commemorating his eight years as our nation's leader. While President Obama's final SOTU transcript hints at his hopes for the future, many viewers have numerous questions prior to the President taking the podium; one being, "Who did Obama invite to the State of the Union?" In short, quite a few people.
President Obama invited a grand total of 23 people to attend his final State of the Union, who will all be seated next to First Lady Michelle Obama. Usually — and in past State of the Union addresses — people invited to attend on behalf of the president are ridiculously high achievers, who have either written powerfully moving letters to the president or represent a point the president intends to make during his speech.
In a somewhat unprecedented move, one of the seats will remain empty. According to an announcement made by The White House, this seat will, "commemorate the lives lost to gun violence," continuing to say that those lives "need the rest of us to speak for them. To tell their stories. To honor their memory."
Here are the 23 people who will attend President Obama's final State of the Union with, arguably, the best seat in the house.