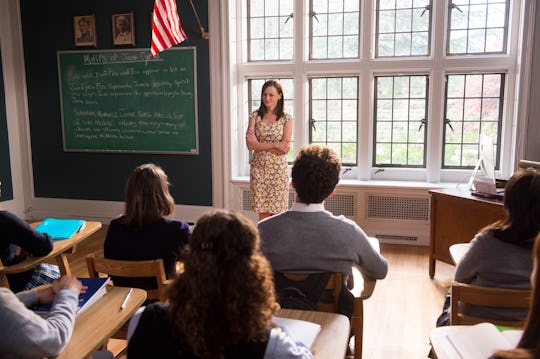 Neil Jacobs/Netflix
Who Did Rory End Up With On 'Gilmore Girls'? The Revival Will Revisit Past Loves
The question of who Rory might end up with in the Gilmore Girls revival has been a major one. Though the focus on the show has always been on the relationships between the Gilmore women, that doesn't mean the romances aren't also important. They definitely inspire the most audience disagreements. Everyone has a boyfriend that they prefer over the others, whether it's because of his particular relationship with Rory or just because they liked his face the most. Rory looks to be flying solo in the trailers for the upcoming revival, but can past events of the show offer any hints about who her final guy might be? Who did Rory end up with on Gilmore Girls?
At the end of Season 7, Rory was still going strong with Logan Huntzberger. They had been in a committed (sometimes long distance) relationship for three years. Though Logan had changed a lot from the callous rich playboy he started out as, he was still on the selfish side. When career choices pulled him and Rory in totally different directions, he bungled the whole thing by making a very public proposal of marriage and then giving Rory something of an ultimatum: it was all or nothing, they got engaged or or they broke up. Rory wanted to chase her career dreams first and wasn't willing to settle down at 22 years old, so they broke up. Going off on her own was the perfect ending to Rory's story at the time.
But what about now? Rory has had eight years to build her journalism career, but in the trailer for the revival it looks like she's more than a little lost. All three of her major boyfriends from the original run of the show have been confirmed to return, so it's a guarantee that Dean, Jess, and Logan will all be making appearances in the new episodes. But the odds of Rory ending up with Dean are slim to none, as confirmed by her TV dad David Sutcliffe; though he was a Dean fan himself, he told USA Today that it just wasn't going to happen.
Logan and Jess generally have the stronger fanbase (Team Dean may be smaller, but members are just as dedicated), and either of them is a definite possibility for Rory in the future. Many of her issues with Logan have been solved by now; with both of them likely in more secure positions, they might be ready to finally make a commitment to one another. Then again, Jess is hard to resist. The transformation that took him from moody bad boy to actual content human being is a compelling one, and his newfound maturity could make him the perfect choice. Also he's my favorite.
But there's no way to know who Rory will be with in the revival before it airs, or even if she'll be with anyone at all. Part of what made Rory's initial ending satisfactory in an otherwise disappointing season was that it felt true to who she was as a character. The culmination of Rory's story wasn't finding romantic fulfillment, but coming of age as a young woman and realizing her dreams. Watching her figure herself out is still the primary aim of the story, whether or not she ends up with one of her old boyfriends — or even someone totally new.