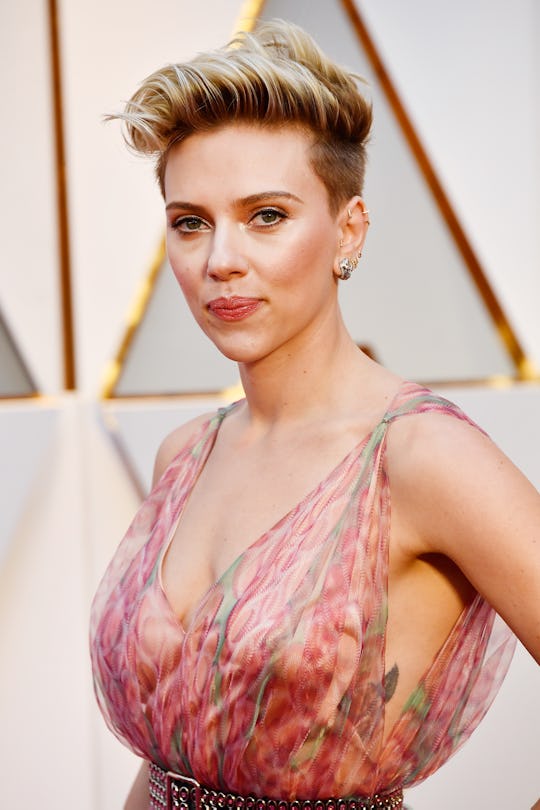 Frazer Harrison/Getty Images Entertainment/Getty Images
Who Was Scarlett Johansson's Mystery Oscars Date?
Actress, activist, entrepreneur, and all-around badass Scarlett Johansson arrived to the Oscars red carpet looking flawless, as usual. Her commentary and cool back and forth with red carpet hosts stole the show, again, as usual. But it was the man on her arm that had many people wondering: Who did Scarlett Johansson bring to the 2017 Oscars? Well, it wasn't her ex-husband, that's for sure. In fact, this year the actress chose to keep it platonic, bringing her longtime manager, Joe Machota, as her date this year.
It was announced back in January of this year that Johansson and her husband of two years, Romain Duariac, were getting a divorce. The two met in 2014 and opened a gourmet popcorn shop in Paris in December of 2016. The two also share a daughter, Rose Dorothy Duariac, who was born before their wedding in 2014.
However, as their divorce has now been made official, it wasn't surprising to see Johansson without Duariac by her side. But the mystery man who did accompany her definitely had many curious as to whether the actress had already moved on, or was simply bringing a friend or family member, as many other attendees have done. While Johansson is known for keeping her private life just that, private, there were some clues as to just who the dapper looking gentleman beside her could be, early on.
In a recent interview with Playboy, Johansson stated that she isn't really that much of a believer in monogamy in humans. "I don't think it's natural to be a monogamous person," she said. "I might be skewered for that, but I think it's work. It's a lot of work." While her comments ring true for many, they don't necessarily prove that she had a new significant other with her Sunday night, even though it might have seemed that way.
It's also worth noting that manager Machota has accompanied Johansson to the Oscars before, attending the 2011 ceremony with her as well — so any potential rumors about the two of them were immediately nipped in the bud.
While Johansson has clearly been very busy with her new film, Ghost in the Shell, as well as her activism, delivering a groundbreaking speech at the Women's March on Washington in January. Despite the fact that she didn't attend the Oscars with a romantic partner Sunday, it was definitely nice to see her enjoying the evening with someone whom she has obviously been very close with for a while now.