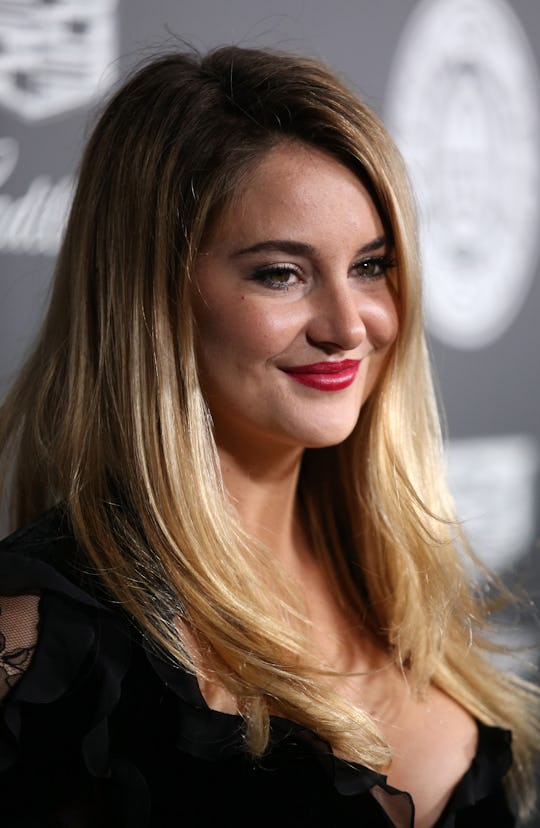 Phillip Faraone/Getty
Shailene Woodley's Date To The Golden Globes Is A Huge Activist
In the past year, there has been a reckoning for predatory men, particularly in Hollywood, and everyone is paying attention. And some people, like those in the #MeToo movement, are using the Golden Globes as a way to further protest this abuse of male power — a group of actresses have decided to bring activists as their dates to the event this year. So who did Shailene Woodley bring to the Golden Globes? Calina Lawrence is a Native American activist and artist. And she's still so young.
It was announced in December that people at the Golden Globes would be wearing all black as part of a coordinated campaign called Times Up, which has been signed by more than 300 people in the entertainment industry. The initiative aims to fight sexual harassment, assault, and inequality for women not just in Hollywood, but in all work places. In support of this, everyone on the red carpet was dressed entirely in black. Taking the red carpet activism one step further, many actresses brought along activist figures who stand up for all different causes. Lawrence, who accompanied Woodley, is an enrolled member of the Suquamish Tribe, and was raised in her indigenous culture in the Pacific Northwest. These days, she stands up for the rights of Native peoples.
According to her biography on her website, Lawrence was raised to understand the importance of spreading awareness about social injustices that have affected Native American people. The incredible young woman recently graduated from the University of San Francisco with a B.A. in Performing Arts and Social Justice, which is quite a degree. Her biography states:
The art-ivist has spent recent time traveling the country in advocacy for Native Treaty Rights and the "Mni Wiconi" (Water is Life) movement led by the Standing Rock Sioux Tribe as well as the "NoLNG253" movement led by the Puyallup Tribe.
Lawrence says that she uses her energy to fight "POC racial injustice, police brutality, mass-incarceration, gentrification, misrepresentation of Native Americans in education/mainstream United States media, climate injustice, blood quantum and enrollment issues, foster youth, suicide prevention, violence against women, and many other causes." This sounds like, well, like all of the issues. I am so impressed that this woman is already so committed to using her energy and talents to make a real difference in the world. She definitely deserves to be standing there with all the stars on the red carpet.
And it makes sense that Lawrence would be accompanying Woodley. Woodley herself is a pretty committed activist, and has been an advocate for Native American issues before. This was probably most obvious when she took part in the protests against the Dakota Access Pipeline. Woodley was so committed to the cause that she actually got arrested. She said in a statement, "I was arrested on Oct. 10, on Indigenous Peoples' Day, a holiday where America is meant to celebrate the indigenous people of North America. I was in North Dakota, standing in solidarity, side-by-side with a group of over 200 water protectors, people who are fighting the Dakota Access Pipeline."
But Woodley and Lawrence have more in common than just their activism on behalf of Native American people. They are both performing artists. Woodley is obviously a successful actress, while Lawrence is an aspiring musician. She filmed a music video for her song "Generations" during a 3-day protest against the Dakota Access Pipeline and Tacoma fracked gas plant. She dedicated the video in solidarity with the Water Warriors of the Puyallup Tribe and the PNW. I can't wait to see more of her.
Check out Romper's new video series, Romper's Doula Diaries:
Watch full episodes of Romper's Doula Diaries on Facebook Watch.