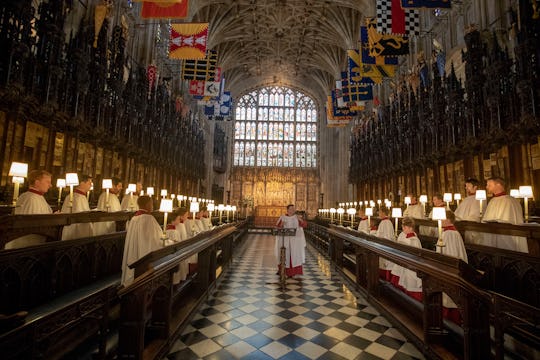 WPA Pool/Getty Images Entertainment/Getty Images
The Reading At The Royal Wedding Honored Princess Diana In The Sweetest Way
After tons of speculating and anticipating, the big day is finally here — Prince Harry and Meghan Markle are getting married today. Royal affairs have a way of bringing the public together and letting us forget the stress of our own daily lives by living in the fairy tale of theirs for a few hours. Plus, to be honest, it's just super romantic to see a royal wedding, especially all of the pomp and circumstance like traditions and readings. But who did the readings at the royal wedding? You've might've felt all the feels.
Kensington Palace had previously noted that Lady Jane Fellowes would give the reading at the ceremony of Meghan Markle and Prince Harry's marriage due to the couple's wishes to honor Princess Diana's side of the family at their wedding. Princess Diana's three siblings are all in attendance, and Lady Jane Fellowes, Diana's sister, did indeed give a reading, as mentioned by Harper's Bazaar. Fellowes was chosen to read in order to represent Diana's family and celebrate the memory of the late princess. If the name doesn't seem familiar to you, it's because Diana's two sisters, Lady Sarah McCorquodale and Lady Jane Fellowes, have not been in the spotlight since Princess Diana tragically passed away in 1997.
Fellowes did a reading from "The Song of Solomon," which read:
My beloved speaks and says to me: 'Arise, my love, my fair one, and come away; for now the winter is past, the rain is over and gone. The flowers appear on the earth; the time of singing has come, and the voice of the turtle-dove is heard in our land. The fig tree puts forth its figs, and the vines are in blossom; they give forth fragrance.
Arise, my love, my fair one, and come away.' Set me as a seal upon your heart, as a seal upon your arm; for love is strong as death, passion fierce as the grave. Its flashes are flashes of fire, a raging flame. Many waters cannot quench love, neither can floods drown it.
If one offered for love all the wealth of one's house, it would be utterly scorned.
Lady Sarah McCorquodale, the eldest of the four Spencer siblings, actually briefly dated Prince Charles before introducing him to her sister, Diana. According to Harper's Bazaar, though Diana shared a special bond with her sister Sarah, she was particularly close to sister Jane in adulthood. She was the one first told of Princess Diana's death and also did a reading at her funeral.
She is said to have remained very involved in the lives of Diana's children, Prince William and Prince Harry. Lady Jane Fellowes' daughter, Laura Fellowes, is also godmother to Princess Charlotte, Prince William and the Duchess of Cambridge Kate's daughter. This special relationship is likely why Lady Jane Fellowes was chosen by Prince Harry and Meghan Markle to read at their wedding. Many consider this an untraditional choice, however, because Lady Jane Fellowes has chosen to not speak publicly in the wake of Diana's death, while her other siblings have.
But, there are plenty of facets of Meghan Markle and Prince Harry's wedding that are considered untraditional. The fact that today's royal wedding took place on a Saturday itself goes against royal tradition. As noted by Vogue, royal weddings typically take place on weekdays (Prince William and Princess Kate got married on a Friday in 2011). The couple also decided to forgo traditional wedding presents in favor of donations to their favorite charities.
Prince Harry and Meghan Markle also chose a smaller, more obscure location for their ceremony than is traditional. They are getting married in St George's Chapel at Windsor Castle, as Vogue mentioned, which had to be approved by the Queen. And, as we found out would happen earlier this week, Prince Charles accompanied Markle to meet Prince Harry at the end of the aisle in lieu of her father's absence.
Obviously, the most significant aspect of all of this is that Meghan Markle, an American "commoner" and woman of color, will be marrying into the seemingly traditional royal family. Only time will tell what this means for the monarchy and how it operates, and its effect on race relations in Britain and America. But, today's wedding is said to be particularly moving for minorities in Britain who have not yet been able to see themselves reflected in the faces of the royal family.
Many might be grateful that the royal wedding is here and so all royal talk can stop after this. But, given the untraditional nature of this royal couple, there's a good chance that the conversation is just beginning.