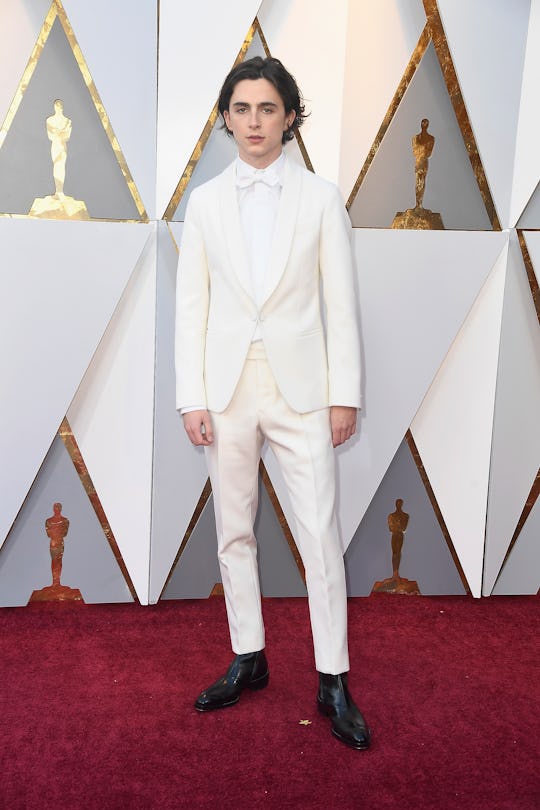 Frazer Harrison/Getty Images Entertainment/Getty Images
Timothee Chalamet Brought His Fam To The Oscars, & He's Everyone's Favorite Son Now
Timothée Chalamet is having about as big a breakout year as one can have this awards show season. He plays feelings-filled adolescent boys in two of this year's biggest Oscar contenders and is nominated in the Best Actor category for his work in Call Me By Your Name. (He also had a role in multi-nominated Lady Bird.) So who did Timothee Chalamet bring to the Oscars with him? Continuing his season-long trend, he brought along his family, appearing with his mom in a red carpet interview with ABC.
Chalamet previously brought his sister, writer and actor Pauline Chalamet, to the Golden Globes and the Critics Choice Awards, and his mom, Nicole Flender, to the SAG Awards and the Toronto International Film Festival premiere of Lady Bird, and for the Oscars, he decided to include his dad in the festivities, too. He revealed on Jimmy Kimmel Live that he'd bring his mom, his dad, and his sister along with him. Mom Nicole stood alongside him during red carpet interviews and she was positively beaming with pride for her son.
In the past, Chalamet has been romantically linked to women (he dated Madonna's daughter Lourdes Leon), but it looks like he's focused on showing gratitude toward his family this season for their support of his acting career. (Which means his heavily crushing fanbase can keep dreaming about being his Oscars date someday.) Meanwhile, his sweet relationship with his family is totally swoon-worthy in its own right and only adds to his adorable factor.
"This is like, unbelievable," said Flender on the red carpet of being at the Oscars with her son. "I'm so proud of him. He's done such a wonderful job. It's like a bolt of lightning."
As a special surprise, ABC's Michael Strahan cued up a video from Chalamet's alma mater, LaGuardia High School, a specialized performing arts school in New York City. In the video, a former teacher of his, along with some current students, sent Chalamet well wishes. After watching the message, he responded:
That's very moving. I literally would not be acting without that man, without that school, without public arts funding. Literally that man who was just in that video — he fought for me to get into that school. I wouldn't be at the Oscars, I wouldn't be nominated without him.
The best part? Chalamet is a legacy student; his mom went to LaGuardia, too. And she seemed to appreciate the sweet video just as much as he did. His sister is also an actor, so it looks like Chalamet is lucky enough to come from a super artsy family — no wonder they've been tagging along all season!
Matthew McConaughey, Chalamet's "movie dad," followed him down the red carpet and gushed over him as they crossed paths. He told Strahan:
He's a good young man. I played his father in [Interstellar]. I saw natural talent and I also saw a real confidence. And when you see his work in Call Me By Your Name, it is a fierce performance, man. He's dangerous in that performance and completely natural. He didn't have a false moment in it and he's here to stay. It's true, you see his work and it speaks for itself.
Much has been made of the fact that, at 22 years old, Chalamet is the youngest Best Actor nominee in around 80 years. Were he to win, he'd be the youngest actor ever to take home the statue. Unfortunately, he's up against some pretty stiff competition in a category boasting Daniel Day-Lewis, Daniel Kaluuya, Denzel Washington, and Gary Oldman, who has been winning this category at other awards shows. But win or lose, Chalamet surely has a long career ahead of him.
Check out Romper's new video series, Romper's Doula Diaries:
Watch full episodes of Romper's Doula Diaries on Facebook Watch.