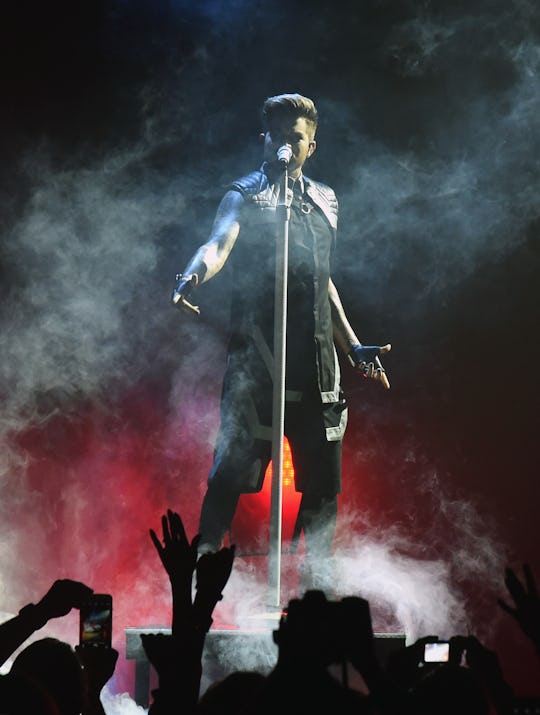 Rick Diamond/Getty Images Entertainment/Getty Images
Who Does Adam Lambert Play In FOX's 'Rocky Horror'? He Almost Played A Different Part
Adam Lambert seems like a natural fit for a musical like The Rocky Horror Picture Show: he has the vocal skills, the stage presence, and the theatre background. Though he doesn't have a lot screen credits to his name (Lambert previously appeared in Ten Commandments: The Musical and Glee), he's been appearing in both amateur and professional theatrical productions since he was a kid. And in addition to his solo music career, he's also performed with Queen, giving him some serious rock star cred. So it makes perfect sense for him to take part in the upcoming Rocky Horror TV remake, but who does Adam Lambert play in FOX's Rocky Horror Picture Show?
While Lambert's part isn't a lead, he's still snagged one of the most memorable characters: Eddie, the part originated in the 1975 film by Meatloaf. Eddie is an important character in the musical because a lot of the action really does hinge on him. He's a saxophone-playing bad boy with tattoos and an Elvis-inspired style who had been involved with both Dr. Frank-N-Furter and Columbia. Though Columbia continues to adore him, Frank loses interest and decides to harvest part of Eddie's brain for the creation of his brand new boy toy Rocky. Though kept in a deep freeze at the start of the show, Eddie returns for one show-stopping number before being promptly bludgeoned to death. He also makes a brief appearance later at dinner.
Eddie's death sets a lot of things in motion. It's a turning point for Columbia, motivating the formerly frivolous groupie to turn against Frank later in the musical. It also draws Eddie's uncle, Dr. Scott, to Frank's castle looking for answers about what happened to his nephew. With his rock star style, Adam Lambert seems like a pretty on-point casting choice – but he almost played another character.
According to the New York Times, Lambert was initially considered for Frank, a much bigger part, but neither he nor producer Lou Adler felt like it was a perfect fit. Adler felt Lambert would be too easily compared to Tim Curry, who originated the role, and Lambert told Out that he thought it would be more appropriate and forward-thinking for a trans actor to take on the role. He also wanted to play Eddie, which coincidentally worked better with his schedule.
"I grew up watching Rocky Horror, but could never imagine that I would be part of this new vision," Lambert told The Hollywood Reporter. "Rocky Horror always made me feel like it was okay to celebrate my weirdness. Hallelujah, bless my soul! I love that old time rock-n-roll!"
From the sound of it, casting worked out just fine.