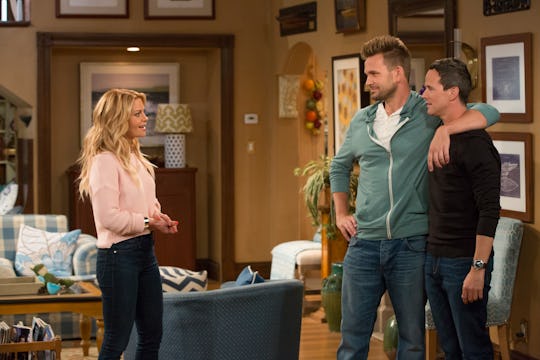 Michael Yarish/Netflix
Who Does Alan Thicke Play On 'Fuller House'? The Actor Makes A Hilarious Cameo
One of my favorite things about sitcoms is the appearance of an occasional and unexpected celebrity in a guest starring role. You never know when, for example, Alan Thicke might appear on set. Who does Alan Thicke play on Fuller House? He makes a hilarious cameo as D.J.'s unlikely, and much older, date for Game Night at the house. At the start of Season 2 of Fuller House, D.J. is all ready to make a choice (finally) between Matt and Steve, only to find out that they had taken her advice and moved on without her. Luckily, Matt's new lady had a backup date for D.J. all set up — and it's her grandfather, played by an ever-so-suave and yet woefully weird and out of touch Alan Thicke.
It turns out that after not getting D.J.'s rose, Matt got a new girlfriend, a very young, very flexible, and handstand doing woman named Crystal. But she's got a good heart so feeling bad for D.J. not having a date for family game night (why this is a plus one situation, I'm really not sure), Crystal decided to bring one for D.J. along with her: her grandfather named Mike, played by Alan Thicke. It's impossible to forget his name is Mike because every time he spoke he introduced himself with, "Mike here."
It's hardly Thicke's first experience on a sitcom. The TV dad was famous playing Dr. Jason Seaver on Growing Pains, which aired at the same time as the original Full House alongside Candace Cameron Bure's real-life brother, Kirk Cameron. Obviously, on the show, the romance didn't exactly blossom between D.J. and "Mike here," despite the fact that, as Crystal pointed out, they have a lot in common. D.J. has three kids, and Mike has three grandkids. And of course, age is just a number. And Mike's number is 72.
Though it didn't work out between D.J. and Mike, who was only around for one episode, the romance was hardly over for D.J. She's still in the throes of a love triangle between Matt and Steve. They may technically be spoken for at the moment, but let's not pretend that either of them are over D.J. Crystal seems to be an obvious ploy to make D.J. jealous and Steve just went ahead and starting dating a woman named C.J. who is so similar to the original D.J. I'm kind of surprised they didn't have Bure just play her as well.