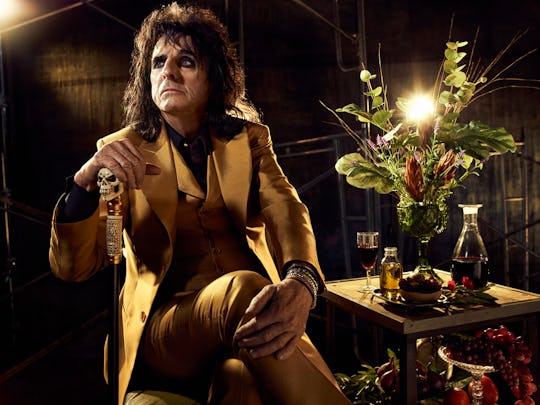 James Dimmock/NBC
Alice Cooper's Character On 'Jesus Christ Superstar Live!' Will Make A Lasting Impression
If you know anything about legendary rock star Alice Cooper, then I bet you can guess his role in NBC's upcoming production of Jesus Christ Superstar Live! He's known for his loud, brash, and straight-up villain-y stage performances. So who does Alice Cooper play on Jesus Christ Superstar Live!? Given his dominating stage presence, it makes perfect sense that he would portray the villainous King Herod, the Roman emperor who demands, in the musical, that Jesus prove to him that he's the son of God. When Jesus refuses, Herod sends him back to Pontius Pilate, which eventually leads to his crucifixion.
In an interview with Rolling Stone, Cooper laughingly explained that he knew that he'd be cast as some sort of villain when he got the call to do the show. "Wouldn't you know that they would give me the part of the villain?" he joked, adding that when he was asked to be a part of the production he said, "'I'm either Judas or Herod, right?'" And when they responded "Herod" he joked that he knew that was coming. It's hard to blame them though, because Cooper is the perfect King Herod, bringing to the stage his own vaudevillian energy and flamboyant nastiness. In fact, this isn't even Cooper's first time getting in touch with the King Herrod role.
Cooper performed Herod's famous song, logically titled, "Herod's Song" as part of a London cast recording of the production, though he didn't act in the role onstage. For the NBC performance, Cooper reveals his rather interesting inspiration for his portrayal, and it involves tapping into extreme cynicism and a certain famous British actor who embodies that trait. "To prepare for the role, I keep thinking, 'Who's the most cynical character that this could be?' And I keep coming back to Alan Rickman," Cooper told Rolling Stone during the same interview. "He would have been the perfect Herod." I can't say I disagree.
Cooper is known best as a rock star. He was a driving force in the emergence and popularity of a certain type of theatrical glam rock in the 1970s, and he hasn't really stopped touring at all since then. So needless to say he's perfectly comfortable performing in front of a live audience, since that has been his bread and butter for the past 40 odd years.
But if you were wondering about his acting chops, Cooper's got those too, having had plenty of experience acting as well as singing and songwriting. Well, not so much acting as acting as himself in various guest spots over the years. He's shown up as himself in the 2012 Dark Shadows, the TV shows Monk and That '70s Show, and Wayne's World. At the very least, over the years he's become accustomed to saying lines and acting in front of an audience, even if he didn't have to get into a particular character.
That being said it could be argued that Cooper's whole persona is a big elaborate character that he's been playing for years. In real life, Cooper isn't a hell-raising miscreant bent on general destruction as he appears on stage. He's actually the Christian son of a minister often described as being mild-mannered and gently funny. He's also devout in his faith and credits his Christianity with saving him from alcoholism. This, of course, adds another layer to his performance as the Bible's Big Bad, so to speak. Cooper at least is a guy who really knows the material.
Needless to say, this is going to be a great performance. Cooper is joined by John Legend as Jesus and Sara Bareilles as Mary Magdalene, and the show will air on Sunday, April 1 starting at 8 p.m. EST on NBC. I cannot wait.
Check out Romper's new video series, Romper's Doula Diaries:
Watch full episodes of Romper's Doula Diaries on Facebook Watch.