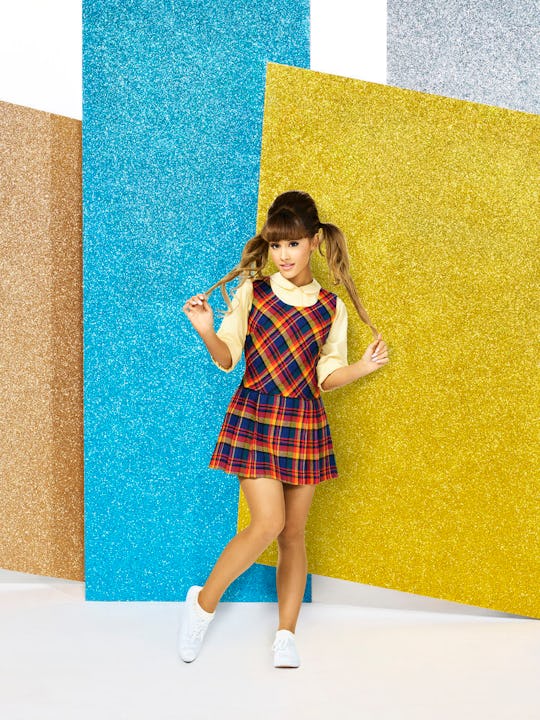 Andrew Eccles/NBC
Who Does Ariana Grande Play On 'Hairspray Live!'? She's The Perfect Penny
Can you hear the bells? Hairspray Live! is almost here and you won't be able to stop the beat once this musical airs. The cast is filled with an amazing array of actors and singers and just based on the soundtrack — which is now available for streaming and purchasing — you can tell this will be NBC's best live production to date. The cast includes Kristin Chenoweth, Martin Short, Jennifer Hudson, Dove Cameron, and Ariana Grande. So who does Ariana Grande play on Hairspray Live!? The singer will play the role of Penny Pingleton, Tracy Turnblad's best friend. Penny was previously played by Amanda Bynes in the 2007 Hairspray film as well as Leslie Ann Powers in the original 1988 film.
Penny is kind of dorky and a little socially awkward, but she's always there for Tracy just as Tracy is always there for her. The pair are both obsessed with The Corny Collins Show, which Tracy desperately wants to be on. Penny's mother, Prudy Pingleton, who will be played by Andrea Martin in Hairspray Live!, is very religious and racist, which makes Penny's life difficult, particularly when she falls in love with Seaweed Stubbs, played by Ephraim Sykes. In fact, Prudy is so determined to keep Penny away from people of color she even locks Penny up in her bedroom at one point.
Although most people now know Grande as a pop vocal artist, she actually got her start on Broadway in the musical 13 before she landed the role of Cat on Nickelodeon's popular TV series Victorious. After that, Grande went on to star in the Victorious/iCarly spinoff Sam & Cat while also starting her solo music career. Once Sam & Cat was canceled, Grande focused on her music career, but also made appearances in other TV shows, most notably FOX'S Scream Queens. It's clear Grande not only has the vocal capabilities to kill it in this new role, but she also has the acting background as well.
Playing alongside Grande is newcomer Maddie Baillio as Tracy. The two seem to make the perfect duo both on and offscreen as seen by Grande's fun SnapChats and photos from set. There's no doubt these two will bring all the fun and hilarity to NBC's Hairspray Live!, making this a show you definitely won't want to miss.
Hairspray Live! airs on NBC on Wednesday, Dec. 7 at 8 p.m. ET.