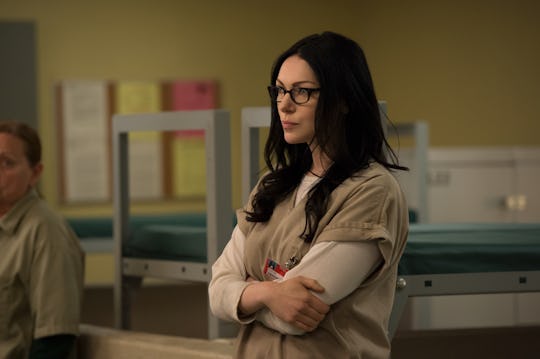 JoJo Whilden/Netflix
Who Does Aydin Work For On 'Orange Is The New Black'? Alex's Past Comes Back To Haunt Her
Aydin is a minor character on Orange Is The New Black, but he plays a critical role. He shows up at the very end of Season 3 as one of the new guards at the soon to be overcrowded prison, but he's not just some random guy who landed the job: he has a past with inmate Alex Vause, and his appearance makes the already-wary Alex even more afraid. Just in case you've forgotten (and it's easy to, in a cast as big as this one), who does Aydin work for on Orange Is the New Black?
Aydin first featured in one of Alex's flashbacks to her old, pre-prison life, when she was working as a dealer for the drug kingpin Kubra. Aydin worked for him too, but in a different capacity, something that became clear as the episode ("Fear, and Other Smells") explained just why his presence terrified Alex so much.
In the flashback, Alex and Aydin were hanging together at a club with another co-worker, Fahri, who Alex later talked into skivving off work to party with her. Fahri's job was to pick up another dealer from the airport, but because he wasn't there to do so, the dealer was arrested. This resulted in big trouble for Fahri: he got taken out on Kubra's orders, right in front of Alex. And Aydin was the one to deliver the fatal shot.
Alex is convinced that Aydin showed up at Litchfield to do the same to her, which is a pretty fair assumption. Testifying against Kubra in court put a target on Alex's back and she spent all of Season 3 fearing that target would take a hit. In the finale of the third season, it looked like it was over for Alex when Aydin cornered her in the greenhouse. Alex's fate was left up in the air as the season came to a close, but – SPOILERS – promotional images for Season 4 (and a couple of Instagram posts from actress Laura Prepon) prove that Alex made it through the encounter somehow.
This leaves the question of Aydin's fate unclear. If he was sent to kill Alex and not just shake her down or scare her, then her survival might mean something less pleasant happened to him. Then again, when the Fahri deal went down, Alex was allowed to live even though she had a hand in distracting Fahri from his job; it's possible Kubra has bigger plans for her and Aydin is there to explain what those plans are.
Either way, it doesn't look like Alex's past is letting go of her any time soon.