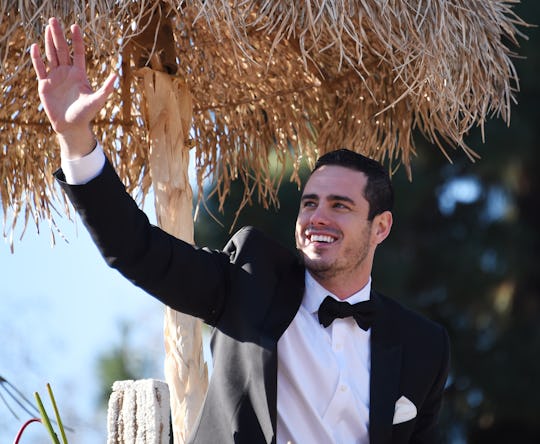 ROBYN BECK/AFP/Getty Images
Who Does Ben Want To Be The 2016 Bachelorette? She's Probably One of the Last Four Contestants
As the season finale of The Bachelor approaches, many fans are wondering which of this season's contestants will be revealed as the next star on the Bachelorette. (I mean, yes, everyone is excited about who Ben will pick as his fiancée — but we should probably be more invested in who will be taking over the next season of The Bachelorette, since that will affect a much bigger chunk of our TV-watching in 2016.) Since Ben got to know many of the possible bachelorettes pretty well, we're also wondering: who does Ben want to be the Bachelorette in 2016? He's kept mum so far, but if we're judging by the word on the street, I have a feeling he'll like ABC's upcoming Bachelorette. (Spoilers ahead!)
According to Us Weekly, rumor has it that Caila Quinn will be the next Bachelorette. She was the second runner-up on The Bachelor, and was heartbroken when Ben sent her home — but was reportedly seen out and about last week in her hometown of Hudson, Ohio, filming her introduction to The Bachelorette. There's been no confirmation from ABC or Caila herself, but the odds are in her favor — according to Us Weekly, several past Bachelorette picks have been second runner-ups like Caila (such as Kaitlyn Bristowe and Andi Dorfman from previous seasons).
When ET asked Caila if she would consider another stab at reality TV romance, she said, "I might do it again, because I did fall in love, and it did work for me. It has worked for so many other people before, and that's what I really want in life, and so who cares how you meet somebody as long as they're the right person?" (I get you, Caila — I said similar words when I first decided to try Tinder.)
Considering that Caila was one of Ben's top three picks on the show — although he couldn't tell Caila that he loved her, as he did with Jojo Fletcher and Lauren Bushnell — I have a feeling that if Caila actually ends up as the next Bachelorette, Ben would be more than happy for her. He obviously cared for her throughout the season, didn't want to hurt her feelings, and would probably love to see her move on to The Bachelorette.
If you don't trust the rumor mills, though, don't worry — the secret will be revealed soon enough. The next Bachelorette star is usually announced at the Bachelor finale, which means that come Monday, you'll not only get to watch Ben make his final pick, but you'll find out who is headed off to try and find love on The Bachelorette.