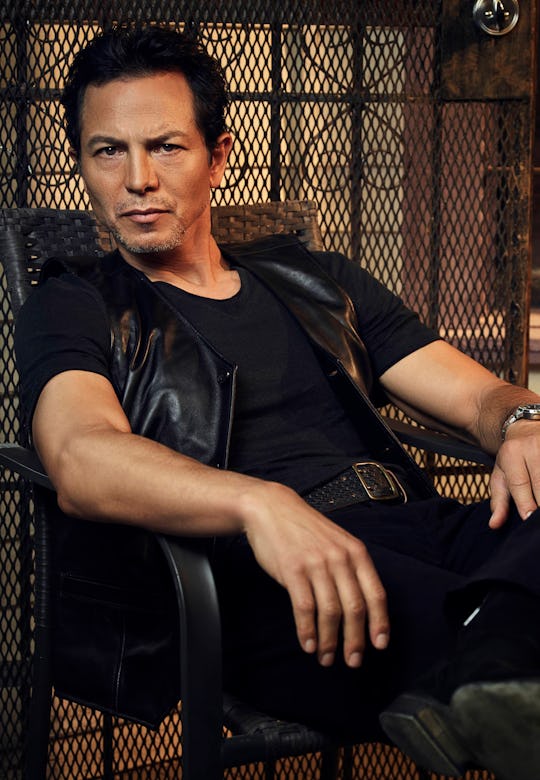 Tommy Garcia/FOX
Who Does Benjamin Bratt Play On 'Star'? He's A Talent Manager With A Past
While the selling point of Star has been that it was created by Empire co-creator and award-winning TV and film producer Lee Daniels, many viewers are also tuning in to see the trio of newcomers (Jude Demorest, Ryan Destiny, Brittany O'Grady) that form the girl group at the heart of the new show. Up-and-coming stars play the parts of several main characters, but a few of the major roles are also filled by veteran performers, including Queen Latifah and Benjamin Bratt. The former plays Carlotta, a "surrogate mother" to the main characters, but who does Benjamin Bratt play on Star?
Bratt, who has previously starred in Law & Order (for which he earned an Emmy nomination) and Private Practice, will be playing the role of Jahil Rivera on the new series. Jahil, a high-rolling talent manager, becomes involved in the girl group when the titular lead character, Star Davis, meets him at a strip club.
Right off the bat, it's apparent that Jahil, who will be driving the girls' music careers, is at odds with Carlotta, who is more interested in protecting her goddaughters, Star (Demorest) and her sister Simone (O'Grady). Jahil has been described as a man with "impeccable taste, a hidden life and a drive for redemption," which clearly indicates that his relationship with the girls is unlikely to remain strictly professional. Jahil is willing to do whatever it takes to achieve success and immediately recognizes in Star that elusive superstar quality and driving ambition, much like his own.
But Jahil won't be precisely an antagonist, according to what Bratt, Daniels, and Queen Latifah have said about the character. Interestingly, Bratt revealed during an interview with FOX 5 NY that Jahil is a sort of surrogate for Daniels himself, reflecting back on Daniels' earlier career as a talent manager:
On some level, Lee Daniels developed this character based on himself. He went to Hollywood back in the 90s as a representative of actors and equally could see talent before him, but because of personal issues, spun out. Jahil is potentially a road to redemption for Lee because he clearly turned his life around.
In a video discussing Jahil's character and the arc they intend to take the character on, the cast and creator elaborate more on the talent manager's "road to redemption" and his propensity to butt heads with Carlotta, "a former client and flame of Jahil's." Daniels spoke to the character being based on his earlier life, noting that he identified most with Jahil's "desperation to succeed."
The show has yet to premiere, and Jahil's character (apparently a textbook antihero) is already shaping up to be one of the most interesting figures on the show. We'll find out soon enough.
Star premieres on Dec. 14 at 9 p.m. (ET) on FOX.