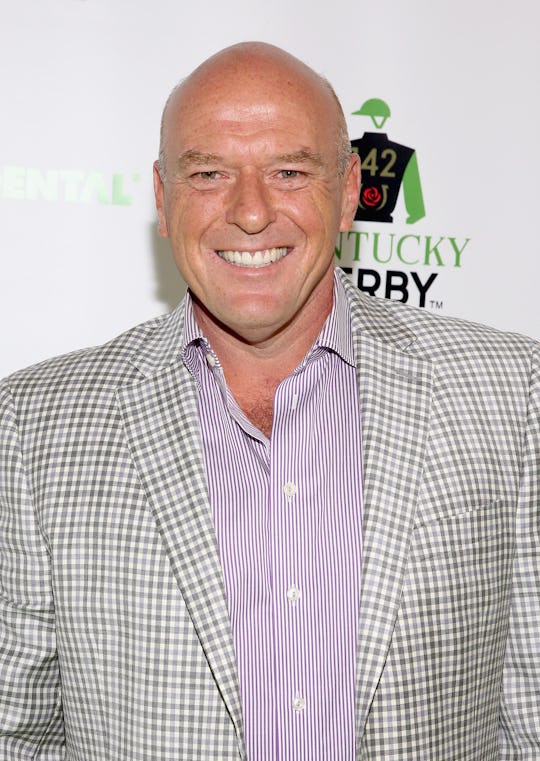 Robin Marchant/Getty Images Entertainment/Getty Images
'Girlboss' Has Nabbed A 'Breaking Bad' Alum
It feels like Netflix is coming out with a new series every week, but when they're this good who can really complain? The latest series is Girlboss, which is loosely based on Nasty Gal founder Sophia Amoruso's popular autobiography of the same name. The show stars Britt Robertson, who play the title role of Sophia and acting alongside her is a very recognizable Breaking Bad alum. So who does Dean Norris play on Girlboss? According to Deadline, he's set to play Sophia's dad Jay.
Most fans of the new show will probably recognize Norris from Breaking Bad where he played Walter White's brother-in-law, Hank Schrader. However, Norris has appeared in a multitude of shows over the years. Before he was on Breaking Bad, he had recurring roles on NYPD Blue, JAG, 24, The West Wing, Grey's Anatomy, and The Sarah Connor Chronicles.
While Breaking Bad aired and after it ended, Norris also appeared on shows like Lost, True Blood, Criminal Minds, Medium, CSI: Crime Scene Investigation, Castle, The Mentalist, Body of Proof, and Unbreakable Kimmy Schmidt. He then went on to star in Under the Dome and had a recurring role on The Big Bang Theory.
Norris doesn't just work on the small screen, though. In the past, he's also appeared in multiple films, including Lethal Weapon 2, Total Recall, Terminator 2: Judgement Day, Gattaca, Little Miss Sunshine, Evan Almighty, The Heartbreak Kid, and Prom.
Besides doing Girlboss, Norris is also set to appear in the TV series Claws, also out this year, as well as the movies Fist Fight, High Wire Act, Death Wish, and The Book of Henry. It's clear Norris knows how to stay busy.
On the show, Norris' character Jay is the antithesis of his daughter Sophia, who forges her own path to find success in the fashion industry. It's unclear how much the relationship between these two characters will reflect the real Amoruso's relationship with her father, but no matter how "loosely" based the show is on Amoruso's life, it'll definitely be interesting.
According to Forbes magazine, Amoruso founded her company Nasty Gal at the age of 22 years old back in 2006. After that her company flourished until it had to file bankruptcy in 2016. In a recent article for InStyle, Amoruso opened up about how she picked herself back up from that to start her new business called Girlboss.
It's doubtful the show's first season will get this far ahead in Amoruso's story, but based on the trailer, it'll at least show her humble beginnings, which is an interesting story in it of itself. Plus, if the show gets a second season, it'll definitely go even deeper into her fascinating life.
Girlboss will be available for streaming on Netflix beginning on Friday, April 21.