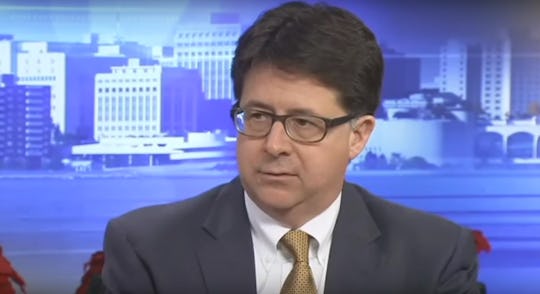 Who Does Dean Strang Think Killed Teresa Halbach? He Has A Few Theories
Since its premiere in late December, Netflix's Making A Murderer has become something of a phenomenon. The 10-episode documentary series focuses on the life of Steven Avery: a man who served 18 years in prison for the sexual assault and attempted murder of Penny Bernstein — a rape and murder he didn't commit — only to be charged and convicted for the murder of Teresa Halbach, a local photographer, just two years after his release. But while the focus of the show is Avery, defense attorneys Jerry Buting and Dean Strang have become psuedo-celebs themselves. They've both fully maintained their client's innocence and Avery has maintained his own innocence as well. But many want to know, if Avery is innocent, who killed Halbach, or who does Dean Strang think killed Teresa Halbach? He has his own theories, but he won't share them.
The "who" of Strang's ideas remains unclear. While it is likely Strang has his own ideas, he has never spoken the name of another suspect. In fact, during Avery's trial, both Strang and Buting wanted to introduce four alternative (and possible) suspects, but the attorney's found their hands tied — as Wisconsin case law requires defense to prove motives before naming suspects, which they could not do. But Strang said the main thing Avery was missing in Halbach's murder was motive, according to the Daily Beast:
That is a significant asymmetry, because the prosecution in a murder case and most other cases in Wisconsin never has to prove motive against the person on trial. But Steven Avery didn't have any motive, either! He had nothing against [Halbach]. She hadn't done anything to him. There was nothing to suggest he had any motive or some reason to want her dead—and the state doesn't have to prove motive.
For this reason, Strang has not identified the individuals he and Buting proposed in their motion, nor has he confirmed — or denied — if the quartet acted together or if they were simply four individual possibilities. However, according to the Daily Beast, in a 2009 appeal, Avery later pointed fingers at his nephew's, Brendan Dassey's, brother Bobby, stepfather Scott Tadych, and Avery's own brothers, Charles and Earl. However, it is important to note that no evidence has implicated Dassey, Tadych, Charles or Earl in any crime. Neither Dassey, Tadych, Charles or Earl returned Romper's request for comment.
The Manitowoc County Sheriff's department has maintained that Dassey's confession was obtained legally and that it was accurate. When asked about the common theory that the Manitowoc County Sheriff's Department planted evidence to help convict Avery or framed Avery in the murder of Teresa Halbach, Manitowoc County Sheriff Robert Hermann told Romper:
Obviously that's false. You get that feeling from the movie that there's a corrupt Sheriff's office up in Manitowoc County, which is the wrong way to paint the case in the movie. There's a lot of evidence in this case that the film or movie does not show. I could go on and on about specific pieces of evidence that weren't depicted in the film. The film basically took the script that the defense used in Steven Avery's case. Avery had a good defense team, but the jury didn't buy it, and Avery was convicted of this horrific crime.
It looks to me — because I ended up watching this documentary — that it was produced for entertainment purposes. From the beginning, in episode one, Avery talks about [the incident with] that cat. ... He says he waved it over the fire and it was the family cat and 'I did some stupid things when i was young.' But he was 20 years old, and he didn't just wave it over the fire — he doused it in gas and oil, and you learn that in episode one. You have this film that shows three or four hours of the courtroom [proceedings] — and I understand when you make a movie you can't put it all in there — but the jury saw nearly six weeks of testimony and a lot of that evidence was left out of the documentary.
Unfortunately, this means fans of Making a Murderer are no are closer to the truth today than when the trial ended, but as Strang himself said, in episode eight of Making A Murderer, that's just part of life, according to IGN:
[It seems] redemption will have to wait, as is so often the case in human affairs. It will just have to wait.
Images: Shaun Attwood/YouTube; Making a Murderer/Neflix