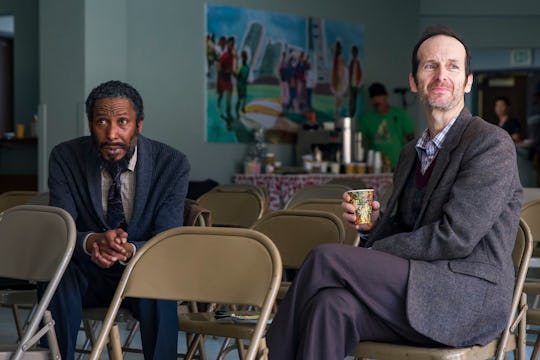 Ron Batzdorff/NBC
Who Does Denis O'Hare Play On 'This Is Us'? He Has History With William
This Is Us packed its very first Christmas episode to the brim with moments both shocking and heartfelt. It gave audiences a look at Pearson Christmases past and present but also doled out some new information about familiar characters. Viewers have gotten to know William alongside Randall, but there's still so much of his life that hasn't been explored. A lifetime passed between the day William gave Randall up and the day Randall re-entered his life, and a lot more happened in those thirty-six years than a couple of meetings with Rebecca. A new character played by Denis O'Hare has a history with William that reveals a little bit more about his inner life. But who does Denis O'Hare play on This Is Us?
If you're as much of a Denis O'Hare fan as I am from his scene-stealing appearances on American Horror Story, then you also dramatically gasped when he popped up in "Last Christmas." O'Hare played a man named Jessie in William's Narcotics Anonymous meeting whose personal story to the group seemed rather pointed, to say the least. He spoke of how his year took a turn for the worst when the man he loved abandoned him without a word, leaving Jessie to assume the worst — only to find out the man was fine, happy even, with his family. Jessie slid back into bad habits and though he was able to overcome them, he was finding the prospect of forgiveness more than a little difficult. Throughout the entire tale, William had a look on his face that made it clear he knew exactly who Jessie was talking about.
After the meeting, Jessie and William had a little chat. Over Christmas cookies and tension, William apologized for keeping Jessie in the dark about his whereabouts and his worsening cancer. Jessie told William he loved him and wanted to spend William's remaining time together, then asked if William felt the same. He didn't answer, but when he showed up at Randall's house with Jessie in tow, it seemed like he was in agreement. The show didn't outright state that William and Jessie had been romantically involved, but that was certainly the implication.
Randall seemed a little confused by his father's new friend, whom he'd never met or even heard of, but luckily his daughter Tess was there to clear things up. "Dad, Grandpa's gay. Or at least bi," she told her father in one of the episode's most underplayed heartwarming moments, before bouncing off as casual as could be to enjoy more Christmas cheer. It was a small moment in a busy episode, but that didn't undercut its importance. It's not that anyone would expect any less from these characters, but it's still major to see such casual and happy acceptance onscreen.
Though This Is Us only hinted at Jessie and William's past together, it looks like Jessie was a very important part of William's life and it's wonderful that they were able to reconnect. That's what Christmas episodes are for.