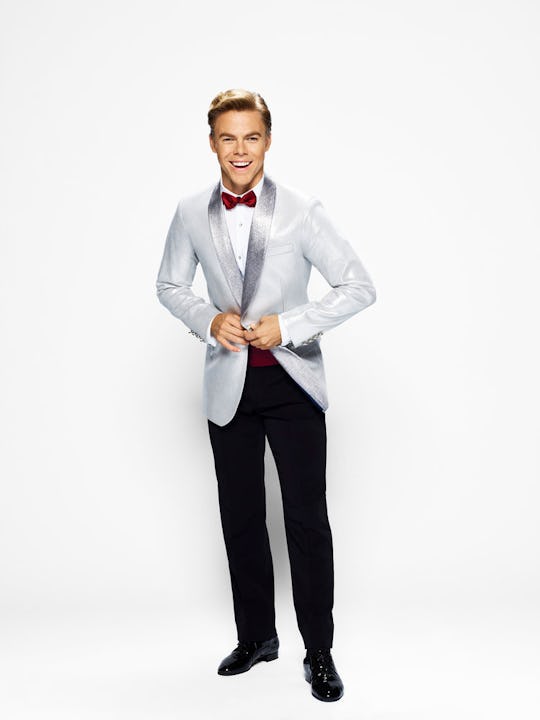 Brian Bowen Smith/NBC
Who Does Derek Hough Play On 'Hairspray Live!'? The 'DWTS' Pro Is Hosting The Show
NBC's latest live musical event has gathered together some unknown up-and-coming talent as well as some household names to create a production that is sure to have you, your mother, and everyone you know singing "You Can't Stop the Beat" for the foreseeable future. Jennifer Hudson, Ariana Grande, and more are a part of the cast, as well as a certain man who is arguably the best dancer in entertainment. So who does Derek Hough play on Hairspray Live!? The Dancing With the Stars pro will be hosting the show, in a role that seems basically designed for him. He'll be portraying Corny Collins of the Corny Collins Show, the American Bandstand-like program that all the Baltimore teenagers want to be a part of.
If there is anyone on TV better suited to play the cheese-tastic singing and dancing host who is literally named Corny than Derek Hough, then I have never heard of him. Hough has won the Mirrorball Trophy on Dancing With the Stars five times, more than any other pro dancer. He's a fan favorite for a reason. Not only does he have a somehow magical ability to turn even the clumsiest of stars into graceful ballroom savants, but he does it all with a kind of "aw shucks" charm that's basically impossible to resist.
Corny Collins was played by the be-dimpled James Marsden in the 2007 film version of the show, and by Shawn Thompson in the original 1988 film. Let's just say that this role, like all the roles in Hairspray has a long history behind it and Hough will have to keep up with all the Cornys that came before. Somehow, I think he'll be up to the task. He was, after all, absent for a season of Dancing With the Stars because he was on Broadway starring in the classic musical Singin' in the Rain. Whatever else, he's sure got the chops.
Hough's sister, Julianne Hough, who is also on Dancing with the Stars, was the first of their family to take part in a live televised musical. She played Sandy in FOX's reprisal of Grease. According to her brother, she had a blast doing it, which was all the inspiration he needed. When asked by Parade if she'd given him any advice he said, "Her advice was her example. Seeing the joy that she got from that process and her coming home and saying, 'I just loved today. It was so great. I loved it. I love the cast.'" I can't wait to see the kind of joy he brings to the stage.