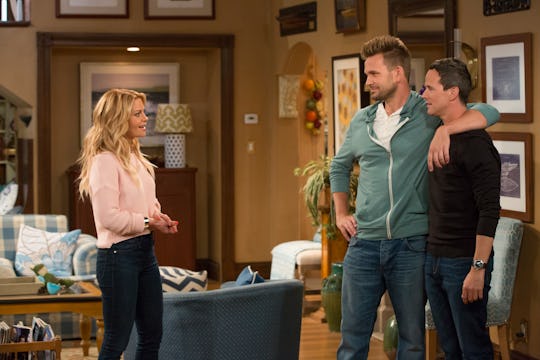 Michael Yarish/Netflix
Who Does DJ Choose On 'Fuller House' Season 2? She's Finally Found The One
(Warning: This post contains spoilers from the entire second season of Fuller House.) Things were getting cramped on Fuller House Season 2. Not only were more people inhabiting the Tanner Family home than ever before, but DJ's love plate was also overflowing (just like Steve likes it). At the end of Season 1, fans were left in suspense when it came to finding out if DJ would pick Matt or Steve. Throughout Season 2, her heart seemed to become a gymnast, in that it was flip-flopping every two seconds (even though, at one point, both men had significant others). So, who does DJ choose on Fuller House Season 2? While fans of the original series may be disappointed, there was a certain solace that came with the results.
When we first picked up in the season, DJ had spent an entire summer thinking about herself, and finally made up her mind on who she was going to pick: her partner at the vet clinic, Matt; or her high school boyfriend, Steve. Well, it didn't really matter who she wanted to pick, because as we found out, both men had moved on and found Crystal and CJ, respectively. DJ, obviously, thrown off, played it cool until the tension between her and Matt ended up in a make-out over sleeping Cosmo (it makes sense if you've seen it, OK).
Matt broke up with Crystal, and he and DJ reunite. Steve was obviously thrown for a loop, but he had CJ, so it was OK, right? Well, there was a moment at a high school reunion that looked like it was going to bring the two former flames back together, but alas, Steve just broke the news that he was going to propose to Ceej... not Deej.
With that, and a slightly strange proposal on New Year's Eve later — Steve was engaged to CJ, not DJ. But, that was OK, since DJ was genuinely happy with Matt (despite saying that after taking the summer to think about it, she was going to pick Steve). So, while I wouldn't say DJ chose Matt, she is certainly happy with him — which is most important. If we do get another season of Fuller House, expect to see these two going strong, since it feels like it's time for us to put this love triangle away.