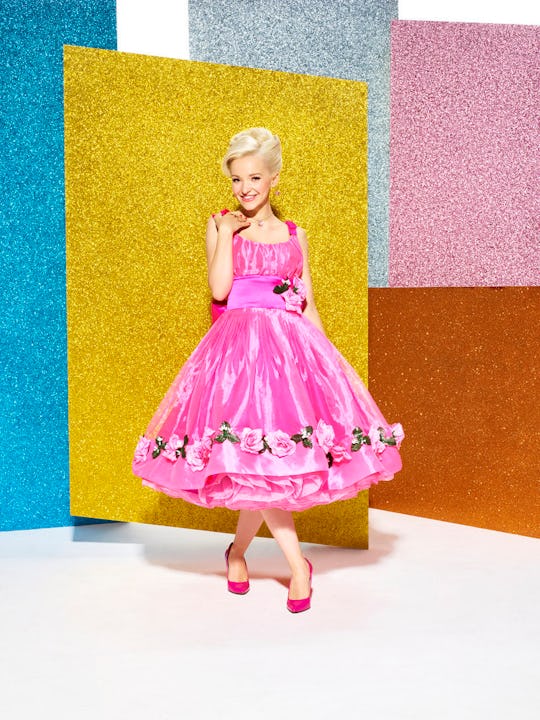 Brian Bowen Smith/NBC
Who Does Dove Cameron Play On 'Hairspray Live!'? She's The Perfect Mean Girl
Hairspray Live! is almost here and it looks like it's going to be a great show filled with an amazing cast of actors and singers. Joining the cast is Disney Channel star Dove Cameron. The 20-year-old star plays double duty on the popular Disney show Liv and Maddie where she plays twin sisters. She's also appeared in a few Disney movies, including Descendants and Cloud 9. So who will Dove Cameron play on Hairspray Live!? She'll be filling the role of mean girl Amber Von Tussle, who was previously played by Brittany Snow in the 2007 Hairspray film.
Cameron will be acting alongside Kristin Chenoweth, who will play her mother, Velma Von Tussle. However, this isn't the first time Cameron and Chenoweth have played a mother-daughter duo. In Descendants, Cameron played Mal, the daughter of Maleficent, who was played by Chenoweth. Although Cameron has exchanged Mal's purple locks for Von Tussle's blonde ones, she and Chenoweth are still the villains and there's no doubt they'll both play their roles perfectly.
Besides her work on the Disney Channel, Cameron has also appeared in other movies and TV shows, including R. L. Stine's Monsterville: The Cabinet of Souls, Barely Lethal, The Mentalist, and Shameless. Cameron also sings in the band The Girl and the Dreamcatcher with her Liv and Maddie co-star and ex-fiancé Ryan McCartan, who recently starred in FOX's TV production of The Rocky Horror Picture Show. They released their first EP this summer called Negatives, but it's unclear whether the band will continue after the couple's split in October.
It's obvious Cameron's career is on an uphill climb right now. She just wrapped filming the sequel to Descendants and the final season of Liv & Maddie is currently airing, leaving the door wide open for her to explore other roles outside of Disney. Playing Amber in Hairspray Live! is one of Cameron's biggest roles yet and there's no doubt we'll being seeing and hearing even more of her after this.
Along with Cameron and Chenoweth, NBC's newest live musical includes the likes of Derek Hough, Ariana Grande, Sean Hayes, Martin Short, Jennifer Hudson, and so many other stars. Make sure to tune into Hairspray Live! on NBC on Wednesday, Dec. 7 at 8 p.m. ET. You won't want to miss it!