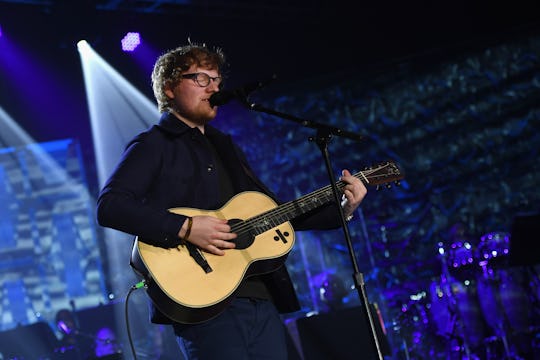 Larry Busacca/Getty Images Entertainment/Getty Images
Who Does Ed Sheeran Play In The 'Game of Thrones'?
While most Game of Thrones fans are just happy the popular fantasy drama is back, others are also excited for the guest stars scheduled to appear this season. Amongst those guest stars is Grammy winning singer Ed Sheeran. So who does Ed Sheeran play in the Game of Thrones premiere? He was a Lannister soldier with an incredible voice.
Like most of the world, Maisie Williams, who plays Arya Stark, is a big fan of Sheeran, who also happens to be a fan of Game of Thrones. Therefore, it made perfect sense for Sheeran to get a guest starring role on the show. It became clear he'd be in the premiere episode when he added in the caption of his Sunday cat picture on Instagram, "Watch Game of Thrones tonight." Thus, fans were on high alert.
Sheeran did not disappoint. Since he was on the show mainly because of Williams, it made sense that his scene included Arya. After Arya killed all the Freys in the cold open of the episode, she was making her way to King's Landing when she stumbled upon a group of Lannister soldiers, one of whom was singing a song she'd never heard before.
Distracted by the singing, Arya stopped to chat with the men and even sat down to join them for a meal. Though Sheeran's character didn't have a name (at least not one that he mentioned), his character did have a few speaking lines and was on screen for the entirety of the scene. The soldiers chatted with Arya about their travels and the things they missed most about being home.
One man shared that his wife just had a child and he didn't know whether it was a boy or girl, but he hoped it was a girl because girls take care of their fathers when they get older. This clearly struck a chord with Arya, though she didn't say anything. The group then passed around some wine and when asked why she was going to King's Landing, Arya simply said that she was going to kill the queen. Of course, the men laughed, not taking her seriously, but fans know she totally meant it.
It was a great scene and both GoT and Sheeran fans absolutely loved it, and many are hoping the song Sheeran sang will be released on iTunes. If it is, it'll definitely sell well as fans have been aching to hear it again and again.
If you missed out Sheeran's awesome performance, you'll probably be able to find it on YouTube or social media soon. Aside from how amazing the episode was as a whole, it's all anyone can talk about.