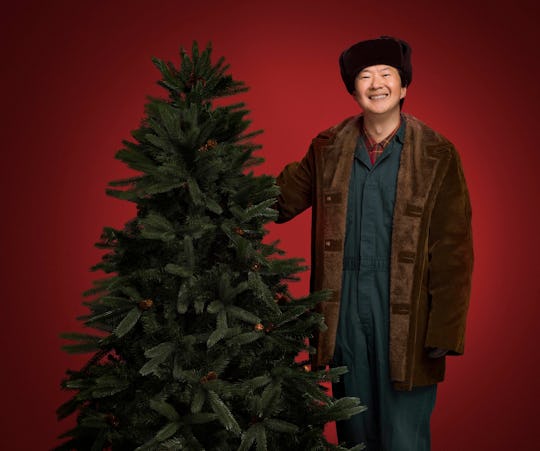 TOMMY GARCIA / FOX
Ken Jeong Is Pulling Double Duty In 'A Christmas Story Live!'
It's not really the holiday season until you've seen A Christmas Story at least 25 times on repeat. This year at least, you can keep it interesting with FOX's live musical version, featuring all of your favorite characters. One of them is comedian Ken Jeong, who plays two characters in A Christmas Story Live!
Jeong, who you likely know from Community, Dr. Ken, or his role in the Hangover movies, will play a Christmas tree salesman, who was originally played by Les Carlson in the movie. However, he will also being portraying the owner of a restaurant, presumably the one the family goes to at the end of the movie, after their entire turkey dinner is destroyed by the neighbors' dogs. In a promo teaser, Jeong is dressed in what looks like the gold uniform of the restaurant employees and in another, he's all bundled up with a tree, totally looking the part.
Both of those roles are small but essential to the classic tale and Jeong is really the perfect choice. Although the three-hour live musical version is being adapted from the 2012 Broadway production, it still sticks very close to the movie version that everyone knows and loves. It's just that there are musical numbers thrown in for good measure. A lot of the original characters, like the Christmas tree salesman and the restaurant owner, all have parts in this version, and then some.
Maya Rudolph and Chris Diamantopoulos play Ralphie's parents and Matthew Broderick is the narrator, who also serves as the adult version of Ralphie. Jane Krakowski will play Miss Shields, the not-very-nice teacher and Ana Gasteyer will be Mrs. Schwartz.
Mrs. Schwartz, in case you don't remember, is the mother who calls Ralphie's mom to snitch on him for using a curse word. In the movie, we only hear her voice over the phone, but Gasteyer brings her to life in the musical version. David Alan Grier will play the daunting mall Santa Claus after wowing everyone with his live musical chops in the NBC's 2015 The Wiz Live!
The adults, including Jeong, are just minor characters in this story, so you'll want to get familiar with the kids, who are cast just perfectly. Newcomer Andy Walken plays Ralphie, his little brother Randy is played by Tyler Wladis, and the bullies are also well represented. Sacha Carlson looks just like the original Scut Farkus and J.J. Batteast plays poor Flick, who will forever be known as the kid who got his tongue frozen to a pole.
Jeong is not known for theater work, having made his name on film and TV sitcoms. However, when he first started out, he did some improv and stand up comedy, so he's not a total stranger to a live audience. If anything, his roles as the Christmas tree salesman and the restaurant owner in A Christmas Story Live! are short, simple, and always good for laughs. So if he gets stage fright during the live production out of Warner Bros. Studios during the broadcast, no one will notice.
David Madden, President, Entertainment, for Fox Broadcasting Company said in a statement when this production was announced, "A Christmas Story is one of the most beloved holiday films of all time  —  audiences have made a yearly ritual of re-watching it  —  and we are so thrilled to have Marc [Platt] leading the charge in bringing the musical version of that film to television."
Platt was the producer behind La La Land, so if you're at all worried that the live musical won't live up to the movie or the Tony-nominated Broadway show, rest assured. With all of this comedic and musical talent on stage, the telecast will probably becomes an instant Christmas classic, just like the movie and the Broadway show before it. Unless, you know, someone shoots their eye out.
Check out Romper's new video series, Romper's Doula Diaries:
Watch full episodes of Romper's Doula Diaries on Facebook Watch.