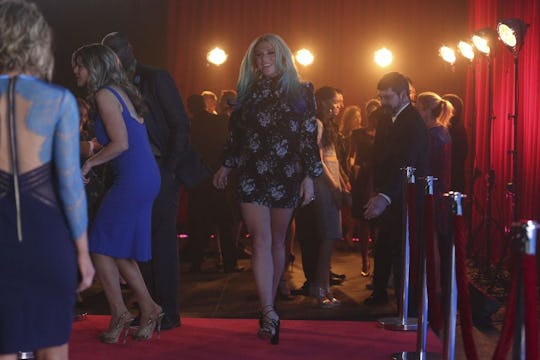 Mark Levine/ABC
Who Does Kesha Play On 'Nashville'? It Looks Like She & Juliette Go Way Back
While Kesha's music career has been temporarily stifled by a gut-wrenching legal battle with Sony and her producer Dr. Luke, it looks like the singer has been able to find a little creative respite with a handful of acting roles. She recently played herself on an episode of Jane the Virgin, and had a cameo appearance alongside Nashville's Aubrey Peeples as the villain Pizazz in the film Jem and the Holograms. Now, her much buzzed about guest spot on Nashville Season 4 is finally upon us, but you may be wondering: who does Kesha play on Nashville? You guessed it — she's appearing as herself.
On the Season 4 episode "After You've Gone," Juliette Barnes runs into Kesha on the Oscar campaign trail while promoting her film Shenandoah Girl. Kesha just so happens to be on the arm of Juliette's co-star Noah West (played by Derek Hough) who also returns to the series in Wednesday's episode. While Juliette and Kesha seem to go way back, there's obvious tension between the two when old sparks fly between Juliette and Noah — even though the co-stars never acted on their feelings before. Juliette and Noah always had a will-they-or-won't-they vibe (as a love scene-within-a-scene will always trigger) and even Avery caught a whiff of it, which caused some major jealousy Juliette had to diffuse. But now that Juliette is officially a single lady, it seems like ex-crushes are fair game.
As for Kesha's guest spot, the artist told Entertainment Weekly that having a creative outlet to express herself — while her ability to make music has been alternately stalled — has made all the difference:
"It's fun to explore different art mediums and right now my [music] career is kind of on hold. I'm finding other ways to express myself and have outlets and connect with my fans. I'm [also] kind of open to all of it. Creatively, my brain's been exploding. I've been painting and redecorating and reupholstering — I'm all over the place and literally creatively exploding all over my life. Some of it's horrible, but some of it's good. I think the most important thing when you're an artist is you can't ever let your artistic creative fire be stifled. You have to get it out somehow."
Kesha has received an outpouring of support from female artists and even collaboration offers from producers. Hopefully, her ability to work on Nashville provides the singer/songwriter an additional morale booster during her tumultuous battle for musical autonomy. For fans, it definitely serves as a welcomed reintroduction of Kesha to the music scene, even if, for now, it has to be through the lens of a television show.