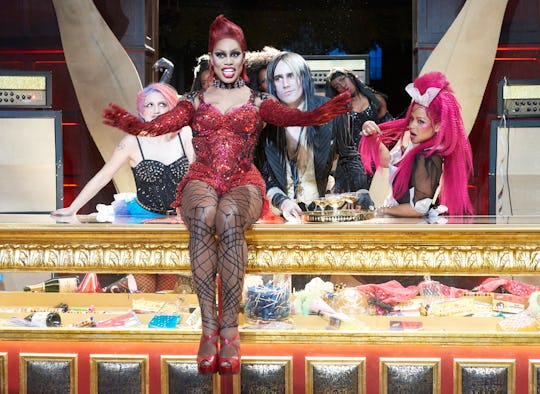 FOX
Who Does Laverne Cox Play In FOX's 'Rocky Horror Picture Show'? She Revives A Classic Role
On Thursday, October 20th, FOX will follow up its first foray into star-studded musical TV events with a reboot of The Rocky Horror Picture Show. While this event won't be taped live, like Grease, there are some similarities between the two productions. The Rocky Horror tribute, for example, follows in the footsteps of Grease Live's super diverse cast, upending the "traditional" casting choices we often associate with these classic musicals, based on decades-old movie versions of them. One of the first stars FOX landed this time around was Emmy nominee Laverne Cox. So who does Laverne Cox play in Rocky Horror Picture Show? She tackles the leading role of Dr. Frank N. Furter.
The role was originated in the 1975 movie by Tim Curry, who will be making an appearance in the reboot — but not as the good doctor. That role is left up to Cox, who was cast in the tribute with great excitement from the minds behind the project. While in the original version of the musical, Dr. Frank N. Furter is described as a transvestite alien mad-scientist, and is traditionally played by a cisgender male actor who "cross-dresses" for the role, the production team behind the FOX version chose to reimagine the typical casting of the role with Cox.
Dr. Frank N. Furter is a role on plenty of actors' bucket lists, and while we typically conceptualize him as a "sweet transvestite," what's important about the part is that his gender — whatever it is — is hugely performative. The fun of playing Dr. Frank is that his gender and sexuality are both ambiguous and over-the-top performances in equal parts. Regardless of how the role gets queered, the point is that gender is being toyed with. Explained executive producer Gail Berman, "We are doing this movie again for the 21st century. So it's not a remake. It's reimagined."
In other words, they scrapped the canon idea of Dr. Frank N. Furter by casting a trans woman of color in the role to see what nuance that might bring to the story. As for Cox, she was simply getting to step into a dream role and lend visibility to folks who might think of themselves as being able to play the part. Said Cox in an interview with Out magazine:
"I discovered Rocky Horror Picture Show when I was in college — I had a shaved head and I wore false eyelashes to ballet class every day — and here I was, I saw this movie, and this character called Dr. Frank N. Furter, and I saw myself. And it was so unbelievably transformative for me."
She isn't the only diverse casting choice producers made. The principal cast heavily features actors of color, with Christina Milian playing Magenta, Staz Nair playing Rocky, and Victoria Justice playing Janet, which is a sharp departure from the entirely white principal cast of the original movie.
"I think it's really exciting that our cast is so diverse," Cox explained in a special featurette (shown above). "There's a reverence that everyone involved with this project has for the original."
And while a more diverse Rocky Horror Picture Show would be a welcomed refresher for a movie adaptation, director of the FOX special Kenny Ortega was adamant that the TV version was more of a tribute than a challenge.
"We're not competing with the movie," he assured fans in the same featurette. "If we wanted to compete with the movie, we'd make a movie for the big screen. This is a celebration, a total tribute, and a thank you. That's what we're doing here."