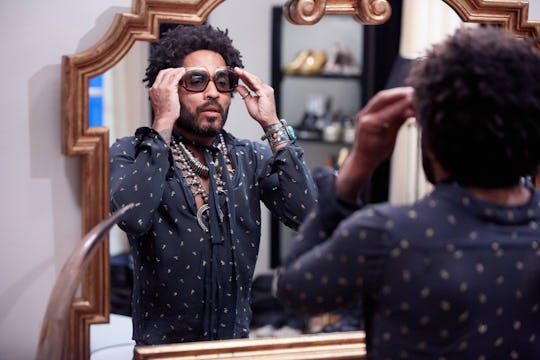 Tyler Golden/FOX
Who Does Lenny Kravitz Play On 'Star'? Art Imitates Life In This Role
The new FOX series Star is already making the most of its guest stars before it has even truly begun. The show reunites its creator Lee Daniels with Lenny Kravitz, who previously worked with Daniels on Precious (2009) and The Butler (2013). Daniels based Kravitz's character on him, so his part on the show is very reminiscent of Kravitz's real life. Kravitz has played himself before on screens both big and small, but this newest role is more a case of art imitating life. But while the fictionalized character may share some of the details of Kravitz's real life, that doesn't mean they're exactly the same. So who does Lenny Kravitz play on Star?
Kravitz plays an incredibly successful superstar musician named Roland Crane. Sound familiar? Roland seems to share Kravitz's flawless fashion sense in addition to his career successes, but the similarities don't end there. Roland has a daughter named Alexandra who is desperate to break into the business that made her dad a star, echoing Kravitz's daughter Zoe's growing Hollywood career. That was on purpose, too; in a featurette for Star, Daniels said, "Alexandra is based on my relationship with Lenny Kravitz and Zoe Kravitz and a little bit of my kids too. And then I exaggerated that."
Kravitz seemed to agree, joking, "The character of Roland Crane is nothing new to me. We are musicians, but he's not supportive of what his daughter is doing." Kravitz, however, has always been supportive of his real life daughter.
But the surface similarities seem to be all Kravitz and Crane have in common. While co-star Queen Latifah praised the rock star energy Kravitz brings to the character, she also applauded him for embracing a character who was so "cold and callous and selfish." Roland Crane looks like he'll be a big obstacle when it comes to his daughter's career, but that might be exactly what she needs.
In a clip of an upcoming scene from Star, Alexandra tries to explain to her father that she wants to make music that feeds her soul and that's why she wants to work with Star Davis, an undiscovered talent Alexandra finds online. Roland is totally dismissive of her dreams and derisive of her desire to collaborate with a "white trash" girl she doesn't even know. However, Roland's disapproval is the motivation Alexandra needs to strike out on her own and fight for what she wants.
Despite the fact that Roland is not the "sweetest guy" (in Kravitz's words), he provides something necessary for the story. And he may eventually come around, though Kravitz has no idea where the story is going to take him. Everyone will just have to wait and see.