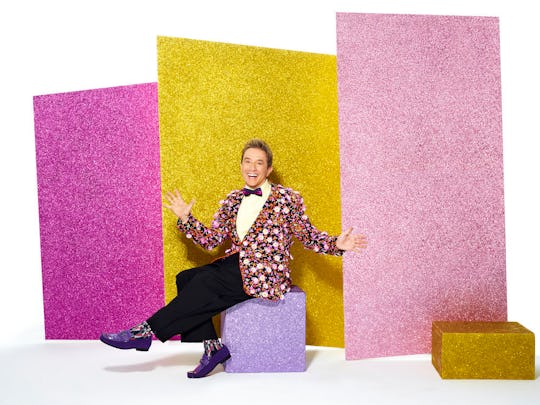 Brian Bowen Smith/NBC
Who Does Martin Short Play In 'Hairspray Live!'? Wilbur Turnblad Will Be Unforgettable
In case you missed it, NBC has put together a live production of Hairspray and it's going to be amazing. The cast is filled with incredible actors and singers, including Kristen Chenoweth, Ariana Grande, Dove Cameron, Jennifer Hudson, Derek Hough, and Martin Short, just to name a few. Short is an excellent actor and comedian and he'll definitely bring the hilarity to his role. But who does Martin Short play in Hairspray Live!? The actor will take on the part of Tracy's beloved father, Wilbur Turnblad, who was played by Christopher Walken in the 2007 film version of the musical.
In the musical, Wilbur owns a joke shop, Har-De-Har Hut, and loves his wife and daughter dearly. Despite his wife, Edna's, reservations, he gives Tracy permission to audition for The Corny Collins Show, a local teen dance show, which sparks the main plot of the musical. Wilbur is endlessly supportive of his daughter and also seemingly oblivious to some of the issues and insecurities that Edna faces, and loves her nonetheless.
It's no surprise that Short was casted for this role. Like many comedians, Short got his start on Saturday Night Live and since then has played a variety of hilarious roles throughout the years. He's most well known for his roles in Father of the Bride and ¡Three Amigos!, playing the characters of Franck Eggelhoffer and Jiminy Glick, respectively. He's also appeared in a many different TV shows in the past, including Merlin, Difficult People, Unbreakable Kimmy Schmidt, How I Met Your Mother, and Weeds. Most recently, he starred in a variety show with fellow Saturday Night Live alum Maya Rudolph, called Maya & Marty. Honestly it's a surprise Short even has time to participate in Hairspray Live! but I'm so glad he does.
Alongside Short will be Emmy-nominated actor Harvey Fierstein as Edna and together there's no doubt these two will be hilarious and heartwarming. With a cast this good Hairspray Live! is a production you definitely won't want to miss and may just be NBC's best work yet. Besides the amazing actors, the sets look amazing and will certainly make viewers feel like they've travelled back in time to 1960s Baltimore.
Make sure to tune into NBC on Dec. 7 at 8 p.m. ET to Hairspray Live!. Trust me, you'll want to watch this one as it happens.