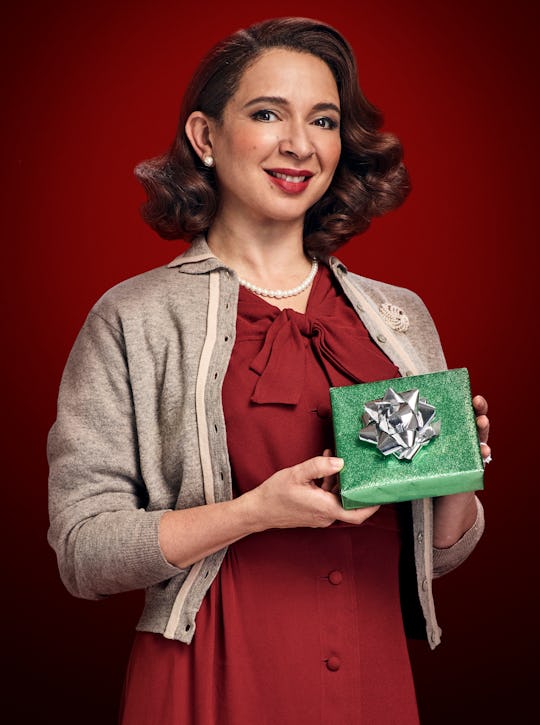 Tommy Garcia/FOX
Maya Rudolph Tackles A Pivotal Role In 'A Christmas Story Live!'
For those who miss Maya Rudolph every week on Saturday Night Live, I have some good news: she's in FOX's production of A Christmas Story Live! airing on Sunday, Dec. 17; it is a retelling of the classic Christmas film with added songs. So who does Maya Rudolph play in A Christmas Story Live!? Originally inspired by a collection of short stories that were adapted into the iconic 1983 film, A Christmas Story is about a boy named Ralphie who wants nothing more for Christmas than a Red Ryder BB Gun. Not only will Rudolph be featured, but she's accompanied by co-stars such as Matthew Broderick and Jane Krakowski.
Ralphie is the star of A Christmas Story, but his family plays a major role as well. Maya Rudolph plays Ralphie's mother, who doesn't have her own name but is nonetheless a fixture. Maya Rudolph didn't grow up with A Christmas Story herself, but once she saw the film for the first time, she was a fan — especially of Mrs. Parker. "I fell into the movie on my own. It was never a household Christmas tradition or anything, but I felt like I discovered it enough on my own that it felt a bit darker and more my sense of humor," she told Entertainment Weekly during a recent interview. "I love Melinda Dillon [as the mother] in the movie so much."
While she enjoyed her character, she wasn't sure she would be featured in A Christmas Story Live! "I didn't expect to ever play her part in the musical, but she really shines for me in that movie," Rudolph continued to the outlet. "She's just wonderfully warm and a little bit her own odd, quirky mother that's not a normal mother but is a normal mother."
As the original film isn't a musical, FOX enlisted help in some experts to handle the songwriting: Benj Pasek and Justin Paul, of Dear Evan Hansen and La La Land. While Rudolph was on Saturday Night Live for seven years, A Christmas Story Live! is her first musical. "I think live actually gives me more adrenaline and energy, but I don't pretend to know this process," she told Entertainment Weekly. "I thought, 'I've never done a musical before. Won't this be great?' I've always had real big, high aspirations to do Broadway. I had no idea what I was stepping into. It's truly another animal."
In the 1983 movie, older Ralphie remembers his parents fondly (even if they're a bit eccentric). Mrs. Parker was so popular among audiences that TIME named her one of the 10 movie mothers they wished were theirs. She had to endure a lot during the film, like her husband bringing home a hideous lamp and dogs stealing their Christmas turkey. Despite this, though, she had a good sense of humor. Seeing as FOX got Maya Rudolph to play her in A Christmas Story Live!, I'm confident she'll play a big role in the musical (and be funny to boot).
Matthew Broderick joined Rudolph for her Entertainment Weekly interview, and mentioned that she, in fact, does have a song during the live production. "Maya was working on a number yesterday that was so beautiful, 'What a Mother Does,' and it's perfect," he said. "It was just lovely. Everybody was incredibly happy. I've never seen Marc Platt [producer of the broadcast] smile that hard."
I was already awaiting to see the cast come together for this classic story, but now I'm really counting down to Sunday night. Rudolph will bring new life to Mrs. Parker, and even have her chance at the spotlight.
Check out Romper's new video series, Romper's Doula Diaries:
Watch full episodes of Romper's Doula Diaries on Facebook Watch.